For thirty years, the AFIRE International Investor Survey has gathered the opinions of AFIRE's members—representing almost 200 organizations from 24 countries, with approximately US$3 trillion in assets under management (AUM)—to construct a useful tool for investors, regulators, and the media to understand the goals, challenges, and impacts of international investments on US real estate opportunities.
The original 2021 survey was conducted in March 2021 and measured investor sentiment alongside forecasted goals, challenges, and impacts of international investments on US real estate opportunities.
The mid-year pulse survey, underwritten by Holland Partner Group, continues this conversation by providing a follow-up to some of the original questions. The answers will track changes in sentiment and strategies over the past few months, especially as the pandemic, climate events, and geopolitics have continued their rapid evolution since the beginning of 2021.
The survey takes five minutes to complete and will be concluded on 27 August 2021.
---
This survey is being conducted independently by PwC Research on behalf of AFIRE, in accordance with the Market Research Society Code of Conduct. All responses provided will be strictly confidential and reported at an aggregate level and by other relevant profiling information provided in the survey to arrive at a consensus on these issues. Your individual responses will not be attributed to you.
ABOUT THE 2021 AFIRE INTERNATIONAL INVESTOR SURVEY REPORT
The annual survey has been conducted for three decades and is used by institutional investors, investment managers, and non-US-based investors to understand sentiment, trends, and capital flows for global institutional investment in real estate. The 2021 survey was collected in Q1 2021 from the AFIRE membership, which represents close to 200 organizations with approximately US$3 trillion AUM, and the global institutional investor community. The report is underwritten by Holland Partner Group and was facilitated by PwC Research.
ABOUT AFIRE
AFIRE is the association for international real estate investors focused on commercial property in the United States. Headquartered in Washington, DC, AFIRE was established in 1988 to provide an essential forum for real estate investment thought leadership. AFIRE membership is exclusive, granted by invitation only, and currently includes more than 200 organizations from around the world representing institutional investors, investment managers, and service providers representing approximately US$3 trillion in assets under management. Learn more at afire.org.
ABOUT HOLLAND PARTNER GROUP
Founded in 2000, Holland Partner Group (HPG) based in Vancouver, Washington, is a fully integrated real estate investment company. HPG principals' development and acquisition volume exceeds $15 billion, representing 50,000 apartment homes located in the Western United States' most sought after markets. Our company accomplishes our investment objectives in strategic alignment with our capital partners through our five integrated operating companies, including development, construction, acquisition, redevelopment and property management. Our vertically integrated focus has developed the real estate industry's most consistent and reliable delivery platforms. Our combined business volume is expected to exceed $2 billion annually through our 750-member team. Learn more at hollandpartnergroup.com.
---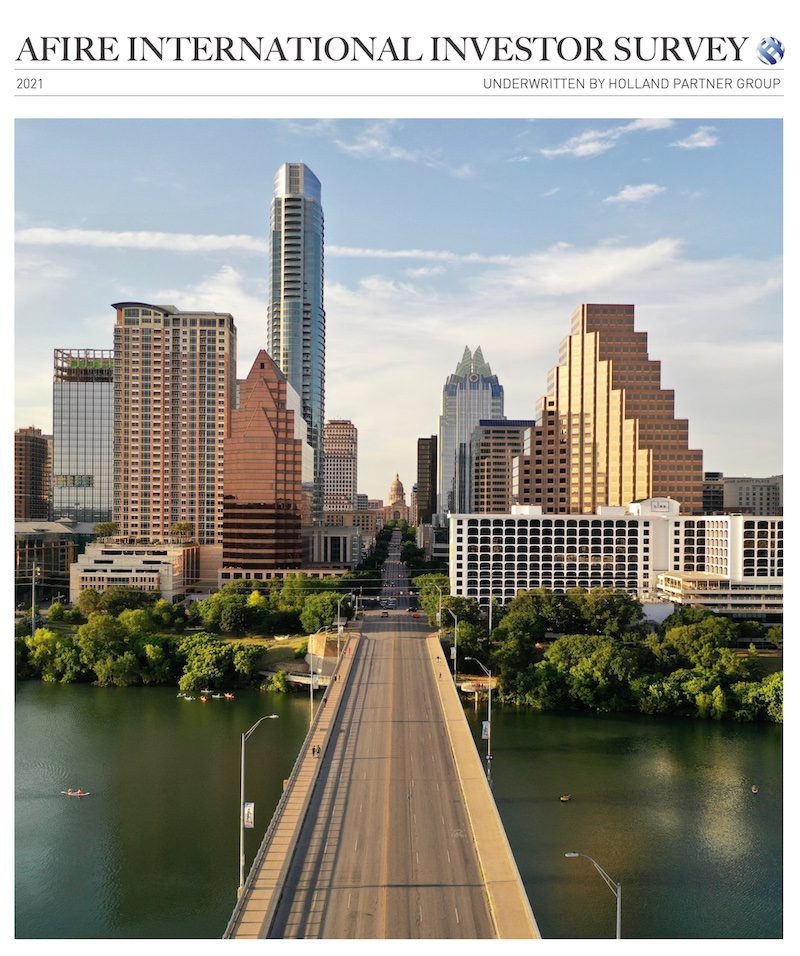 ENTER YOUR INFORMATION BELOW TO DOWNLOAD THE ORIGINAL MARCH 2021 REPORT
Reports will be sent within 12-24 hours of request, or sooner.
All information contained in this report is the intellectual property of AFIRE. No sale or sub-licensing of the data is permitted; nor shall any data be altered or overwritten in this report.
Reprints and/or redesigns are permitted, with the following source attribution in all instances: "Source: As of March 2021; 2021 AFIRE International Investor Survey, underwritten by Holland Partner Group; www.afire.org."
Please contact Benjamin van Loon, Communications Director, bvanloon@afire.org, for hi-res graphics, data sets, reprints, and other uses.