Publish your research, analyses, and ideas in the next issue of Summit, the official publication for international real estate investors focused on commercial property in the United States.
AFIRE seeks future-focused thought leadership across finance, investing, real estate, ESG, technology, management, demography, economics, and more.
Abstracts and proposals can be submitted by May 25 to Benjamin van Loon, Communications Director, bvanloon@afire.org.
We want articles that challenge conventional thinking or present new approaches to old ideas.
Challenges to the status quo are more important than ever as we collectively form the vision of what the world will look like for our buildings, organizations, stakeholders, and communities in a world after COVID-19.
Topics are open. We are interested in 1,500-word articles with original ideas running across the full range of our industry—futurism, capital markets, cross-border issues, global cities, policy, economics, technology, management, demographics, operations, and more.
We don't assess proposals based on portfolios, seniority, or sponsorship dollars, which means that your ideas in Summit are a valuable opportunity for you to lead the conversation around real estate investment and engage with an international audience that values your thinking.
Let us know what you have in mind.
Article proposals should be submitted to the editor by May 25, 2020.

Both new and pre-published articles are considered.

Once approved, the contributor(s) will provide a finished draft of around 1,500 words (plus any graphics, charts, and tables) by June 5, 2020.

Contributors will sign a publication agreement for non-exclusive rights (which means you can use, promote, and republish your articles however you would like).

Articles will be revised, designed, and approved for publication by the authors and editors before being included in the summer 2020 issue of Summit, which will be available July 2020.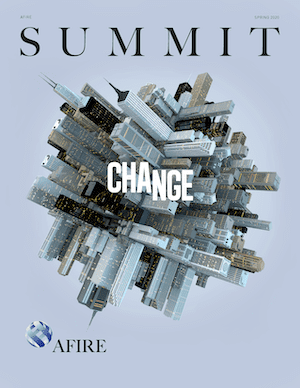 Benjamin van Loon
Communications Director
bvanloon@afire.org
+1 202 312 1405
DISCLAIMER
The publisher of Summit is not engaged in providing tax, accounting, or legal advice through this publication. No content published in Summit is to be construed as a recommendation to buy or sell any asset. Some information included in Summit has been obtained from third-party sources considered to be reliable, though the publisher is not responsible for guaranteeing the accuracy of third-party information. The opinions expressed in Summit are those of its respective contributors and sources and do not necessarily reflect those of the publisher.