Welcome to the final AFIRE Tax & Regulatory Briefing of the year!
We launched this short newsletter at the beginning of the year, not knowing what the months ahead had in store. The impacts of the pandemic reverberated in all sectors. Understanding the fast-paced evolution in tax and regulatory issues around the world has been the key to building success for commercial real estate investing—especially during turbulent times.
Because our focus at AFIRE is on becoming better investors, leaders, and global citizens, we've seen our readership and participation in all of our platforms significantly expand throughout 2020.
If you would like to be part of this growth, we have a lot of ways for you to plug in:
Meanwhile, read on for the latest tax and regulatory updates from our members, including a recording of our recent CFIUS discussion.
Welcome to the AFIRE's November/December Tax & Regulatory Briefing.
Links: 6 | Words: 446 | Read Time: 3 minutes
---
WATCH NOW: FOCUS ON CFIUS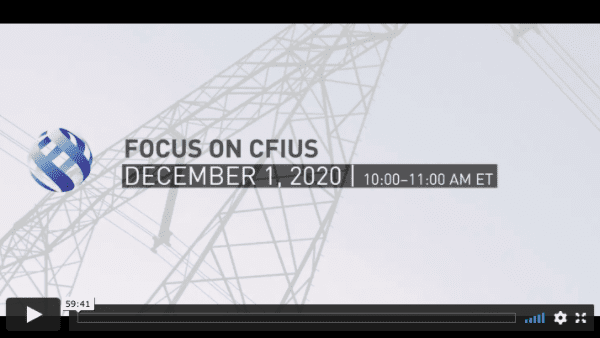 AFIRE's Focus on CFIUS discussion, recorded on December 1, 2020, highlights the current status of CFIUS policies for commercial real estate decisions, and potential implications on the future of foreign direct investment.
The discussion features Joseph A. Benkert (Morrison & Foerster LLP); Barry Green, Head of US, Lighthouse Real Estate Investments; Nicholas Spiliotes, Partner, Morrison & Foerster LLP; and Charles Capito, National Security and Government Contracts, Public Procurement Practices, Morrison & Foerster LLP.
(This recording is for AFIRE members only. Contact AFIRE for access.)
Scheduled for the final Friday of every month, the AFIRE Tax & Regulatory Briefing provides quick summaries and links to recent articles and white papers provided by AFIRE members, expert sources, and other content from our association's everyday reading lists.
Fill out the form below or click here to subscribe.