(Featuring Chris Happ, Tech Entrepreneur, Investor)
The events of the past year have been the big push needed by the real estate industry to adapt to new technology. And with more than $50 billion in new proptech investments, the pace is quickening. Where can CRE investors find value in this rapidly evolving field?
A few years ago, proptech was not a term that was used to define the real estate industry. Now, as the investors who have mastered big data emerge to the forefront of the global real estate industry, businesses across the entire CRE spectrum need the capabilities for capturing information, insights, and trends in order to stay at the front of the market.
On this episode of the AFIRE Podcast, tech entrepreneur and investor Chris Happ discusses how investors can navigate the proptech space—especially how to separate the bells and whistles from the inner workings.
Listen now on your favorite podcast service (Apple, Google, Spotify) for the full episode.
FEATURING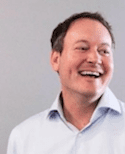 Chris Happ is a proven tech entrepreneur and investor who is equally comfortable at the quarterly board meeting or sprint planning with developers. Chris has worked at and consulting for the largest companies in the world including PwC, Ariba, ExxonMobil, Southwest Airlines, Walt Disney, Pfizer, and American Express. He has started and grown two companies, one successfully exiting to a public company and the other growing to more than 150 customers in over 40 countries. Happ has raised seed and subsequent funding rounds and heavily experienced in building the necessary infrastructure to make a company go from idea to scale.
SUBSCRIBE TO THE AFIRE PODCAST
INTERESTED IN COLLABORATING ON AN AFIRE PODCAST? LET US KNOW.
DISCLAIMER
The publisher of AFIRE Podcasts is not engaged in providing tax, accounting, or legal advice through this publication. No content published in the AFIRE Podcast is to be construed as a recommendation to buy or sell any asset. Some information included in the AFIRE Podcast has been obtained from third-party sources considered to be reliable, though the publisher is not responsible for guaranteeing the accuracy of third-party information. The opinions expressed in the AFIRE Podcast are those of its respective contributors and sources and do not necessarily reflect those of the publisher.
Benjamin van Loon, Communications Director
bvanloon@afire.org | +1 202 312 1405