Fallout from COVID-19 leaves a downbeat outlook across the real estate sector
The Q2 2020 AFIRE/RICS North America Commercial Property Monitor results reflect the ongoing impact of COVID-19 on the macro economy and the way in which this is playing out in the real estate sector. Key measures of sentiment are unsurprisingly and firmly entrenched in negative territory, albeit that the aggregate readings still remain above the lows recorded in the wake of the Global Financial Crisis.
As the global economy continues to grapple with the fallout from the pandemic, participants in the AFIRE/RICS US Commercial Property Monitor reported a significant deterioration in conditions across the commercial real estate sector in Q2 2020.
The report shows the Occupier and Investment Sentiment Indices remain firmly entrenched in negative territory, coming in at -49 and -25 respectively. As such, both readings are indicative of another sharp contraction in activity.
Unsurprisingly, demand from prospective tenants and buyers was seen slipping over the quarter. The sector breakdown however shows that while enquiries fell sharply across the office and retail segments, demand was reported to have risen in the industrial portion of the market.
This trend is also reflected in the results for twelve-month expectations. Contributors envisage rents and capital values declining across the office and retail sectors over the course of the next twelve months. In contrast, the outlook for industrial segment is positive, particularly for prime properties.
The report shows that the outlook for alternative asset classes is also downbeat, with hotels expected to see a significant drop in rental values in the coming year. Data centers stand out as the exception, where rents are expected to remain stable more or less.
A downbeat picture is also seen in perceptions regarding where markets stands in the property cycle with more than two-thirds of contributors taking the view that the market is in the downturn phase. Furthermore, credit conditions have reportedly deteriorated over the last two quarters, offsetting an improvement during 2019 and adding another headwind to an already challenging environment.
Click here or below to read the report.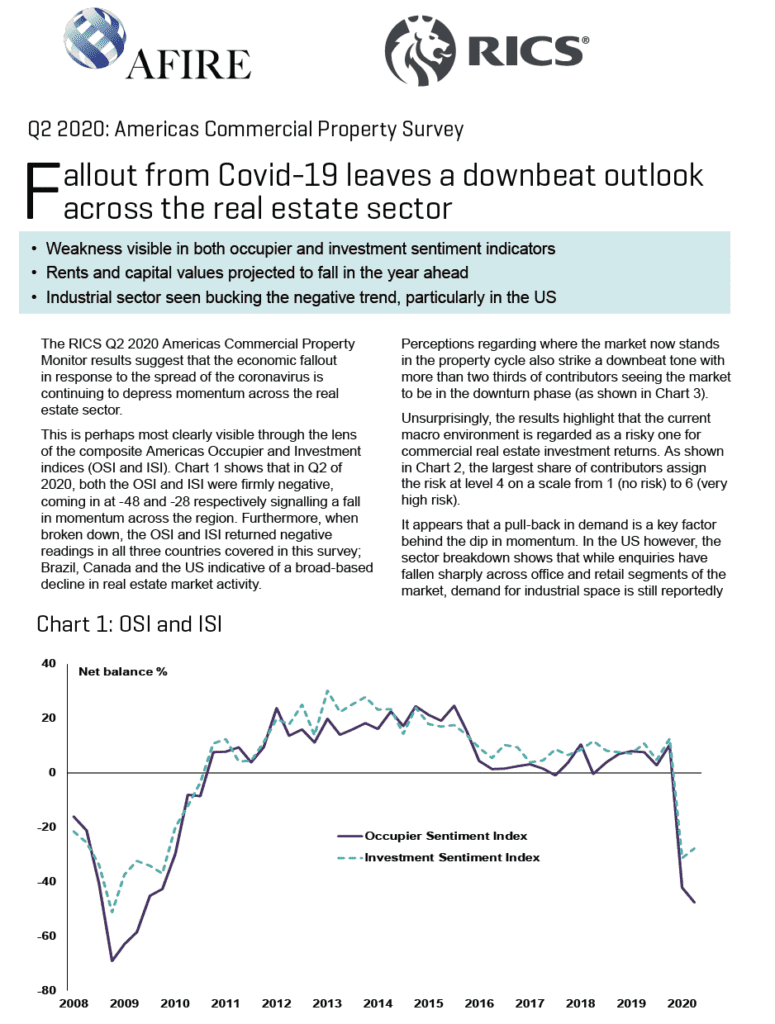 ABOUT THE REPORT
AFIRE has partnered with the Royal Institution of Chartered Surveyors (RICS), a professional body promoting and enforcing the highest international standards in the valuation, management and development of land, real estate, construction, and infrastructure, to collaborate on research for the organization's quarterly North America Commercial Property Monitor—part of RICS' Global Commercial Property Monitors, which serve as leading indicators of conditions in commercial property occupier and investor markets around the world. Click here to learn more.