IS YOUR DATA AND ANALYTICS PROVIDING YOU WITH BETTER DECISION MAKING AND A COMPETITIVE EDGE?
Competition in real estate is fierce, opportunities are harder to find, expenses are rising, you have to do more with less, and you have to be much more effective and efficient in everything you do. No matter where you sit in the organization —asset management, finance, risk management— it's a challenge. All levels of the organization need to step up their game to add financial and operational value.
How do we do it? Admittedly, real estate companies haven't really been future-forward in terms of technology adoption. It's only recently that the industry coined the term "PropTech"—using data and digital technology to add value to how we build, operate, and trade real estate assets. But today, more than ever, the industry is showing signs of really embracing and focusing on PropTech, as suggested by the findings of KPMG's 3rd annual Global PropTech survey, which was published in November 2019.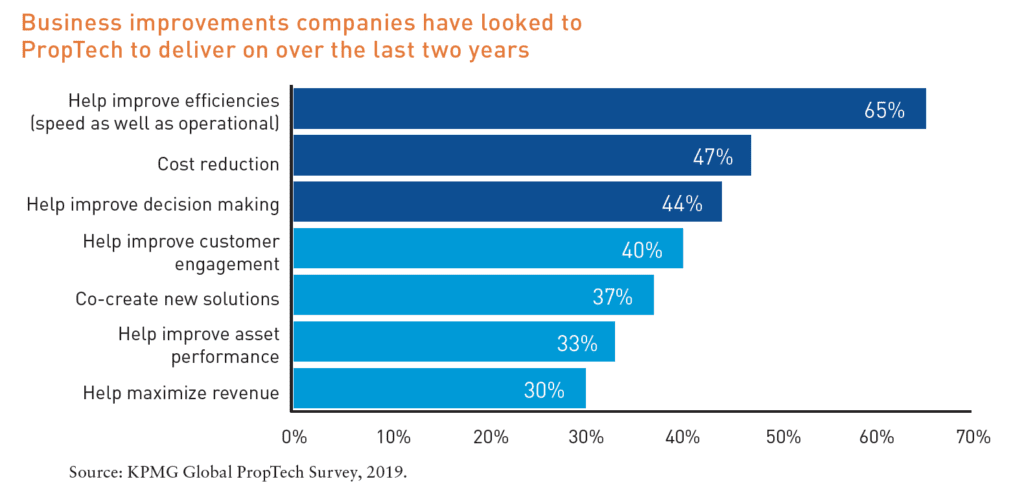 One big question posed in the survey was, "Why are real estate companies investing in PropTech solutions?" There are numerous reasons companies are going digital, but according to the survey three stand out: efficiency, cost, and decision making.
Business improvements companies have looked to PropTech to deliver on over the last two years
In this environment, how are companies in our space using data to gain a competitive advantage at the asset, fund, and enterprise level? Many firms spend so much time collecting and validating data. But significant time also needs to be devoted to analyzing that data, particularly in service of improving financial and investment decision making.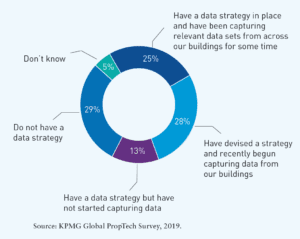 Ideally, you want a single source of truth—whether it's from a third party or a proprietary tool you build in-house—for everyone across the organization. It's tough to ask people to change the way they work, but the benefits of having all of your property data integrated and accessible in one place will speed up the entire process, from letter of intent to lease signing.
The industry should look at data strategy holistically. Companies should assess the current state of their organizational data, develop a vision of where they want the business to go, and design a roadmap to get there. And work to make that process as efficient and flexible as possible. Of course, there's no perfect plan. It's got to be malleable enough to respond to an ever-evolving marketplace, but companies also need a target to shoot for in terms of enabling their financial and operating data to be conversant.
Regarding data and analytics, the survey found that companies have not made much progress in developing integrated digital strategies that incorporate data management or data strategy. Only a quarter of respondents have a data strategy that enables them to capture and analyze the right portfolio datasets. And almost a third have no data strategy at all.
Data must be at the heart of a broader digital strategy— for many companies, it's not
Real estate companies have enormous amounts of data, but are not doing a great job of capturing, harmonizing, and then visualizing that data and turning it into actionable information. This is fast becoming our industry's primary pain point.
As one industry luminary observed at a Real Estate Funds CFO conference KPMG hosted last year in New York City, so many companies do a fine job of hiring people who excel at Excel. There are plenty of folks who can present data. What we need is talent that can draw insights from the data. Companies need quantitative analysts, data scientists, and data visualization experts. Of course, there's always concern over the expense of building out these capabilities, but you can take incremental steps—like including these skills in the "nice to have, but not required" components of job opportunities and recruitment.
Our industry is looking to strike a balance between what we need in order to progress the business and accessing the raw data that already lives across the enterprise. When we ask, rhetorically, whether we already have most of the data points we need, the answer is likely "yes." But when we ask whether we have the data quality we need to make the most informed investment decisions, the answer too often is "no."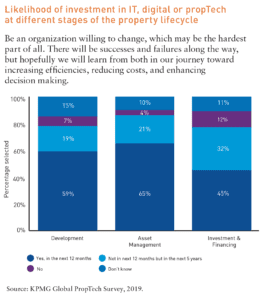 The real question becomes, "Are your data and analytics providing you with better decision making and a competitive edge?" We're all looking for that leg up on the competition, whether in terms of income, cash fl ow, cost control, capital spend, or a host of other measures. There's no single valid answer. It has to be right for your shop. Every player, large and small, is looking at numerous similar key performance indicators (KPIs), but perhaps weighting them differently. The key is determining what's going to add the most value for your company and identifying quick wins that will help you move the needle.
What we're learning anecdotally and through research is that while we need good, dedicated data technologists, if data strategy is left solely to IT, it will fail. It has to be owned jointly by the full business.
So who owns digital? The good news is 95% of the firms that participated in the Global PropTech Survey indicated someone on the business side is in fact responsible for digital innovation and that 62% is represented by C-level executives. The bad news, however, is 65% of those leaders don't have technology backgrounds. This lack of technical skills at a senior level is quite simply a speed bump on the road to digital progress.
This skills gap can be addressed by bringing in digital experts to work in teams toward innovating the organization and changing the culture. That individual needs to understand your business. But they also need to understand today's emerging technologies. As a global industry, we're typically hesitant to break things ourselves; to disrupt. That's why we need technology to do it for us; to do the types of things that will, hopefully, add value and accelerate growth. That means having the right people in the right places at the property and operational levels who are willing and able to drive innovation.
This will help create a culture where it's OK to move fast, to disrupt and break things—but with a clear plan. But to make this cultural shift the industry's mindset needs to change. Many property companies want to explore digital solutions, but aren't prepared to budget for them. These companies are insufficiently focused on the opportunity to improve the customer experience, and are too concerned that the potential risks of digital investment will outweigh the benefits. Instead, we believe they should view digital transformation as an opportunity to experiment more and learn from the results.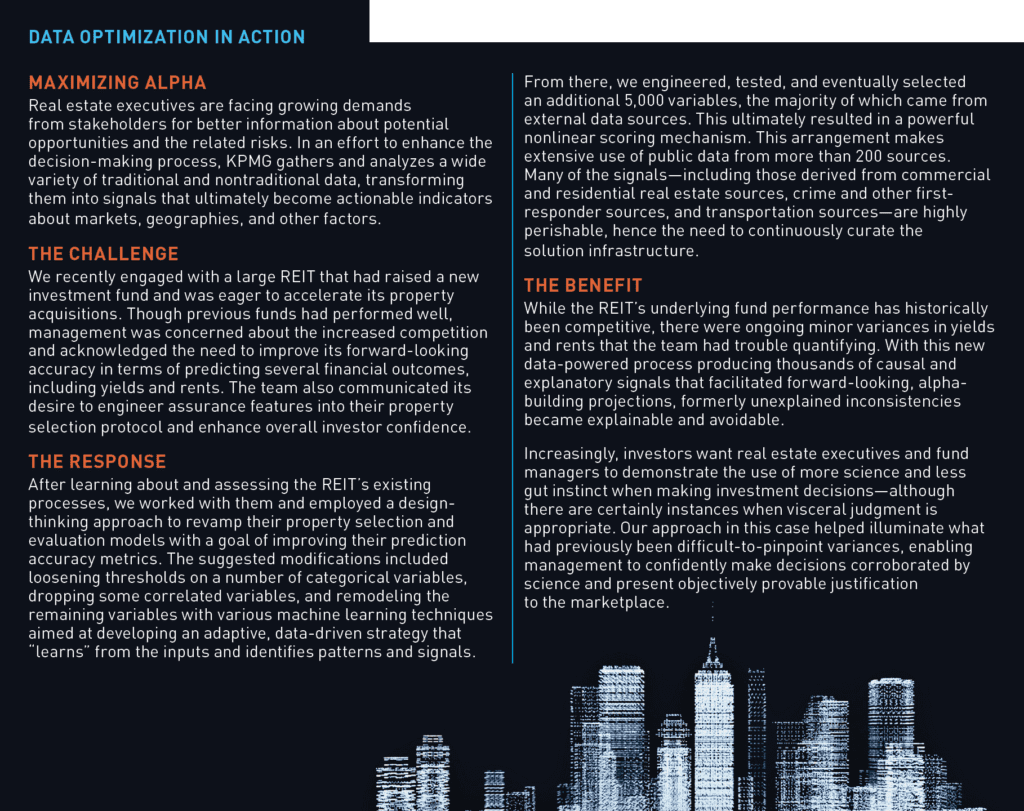 —
ABOUT THE AUTHOR
Phil Marra is Audit Partner & National Real Estate Funds Leader for KPMG, a global network of professional firms providing audit, tax, and advisory services.
—