THE CONVERSATION ENGINE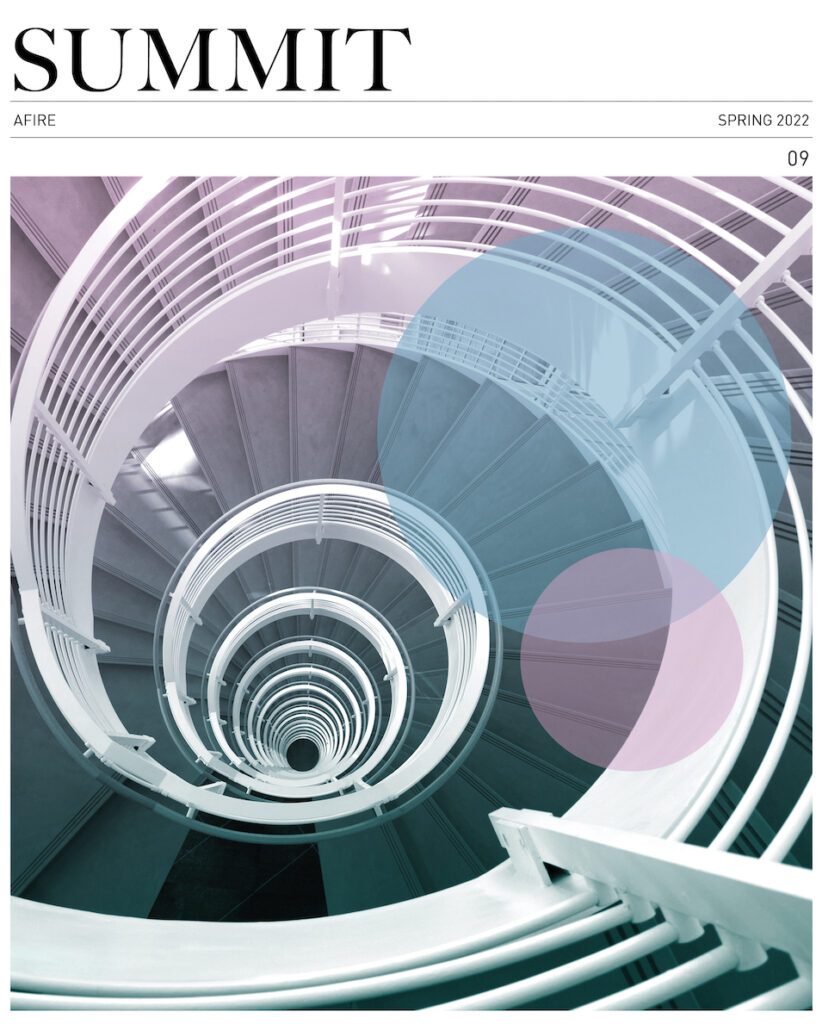 One of the defining philosophical principles of commercial real estate investment the past few years is the acceptance of uncertainty.
Of course, this principle isn't quite novel. We're in the business of developing ideas and deploying capital based on long-term thinking (and imagination).
We know that the future is unknowable.
But the human struggles of the pandemic, rising economic pressures, and intensifying geopolitical tensions have weakened the tried-and-true methods we've come to rely on for real estate prognostication.
This hasn't made such tools irrelevant. Instead, it has underscored the need for continuous improvement in how we do everything from investing and operating to management and corporate citizenship.
And at AFIRE, we believe that continuous improvement starts with honest conversation. This has been the guiding philosophy of Summit Journal the past few years, and it's why, beginning with this issue, we are adding a new dimension to the journal: the voice of our inaugural editorial board.
Formed last year, the editorial board for Summit is a collection of experts from across the AFIRE membership and broader real estate investment community, responding to the articles and ideas we publish as they happen.
As you read through this issue, you will see specially marked sections with comments from various editorial board members responding to the ideas from our contributors.
Academically, this is a form of "transparent peer review," or the idea that the contributors should be able to hear from their readers, and that readers should be able to interact with authors.
This nascent practice is central to AFIRE's mission of helping each other become Better Investors, Better Leaders, and Better Global Citizens.
We advance this mission through conversation. Nobody knows what's in the future, and while some insights may see farther into the distance than others, absolute certainty will always remain elusive.
As we face unprecedented historical conditions—climate change, threats against globalism, technological innovation—connection and conversation with others (especially those with fresh thinking beyond the so-called tried-and-true) will be increasingly critical to the health and success of our businesses and communities.
– Benjamin van Loon, Editor-in-Chief, Summit Journal
IN THIS ISSUE:
The new 2022 AFIRE International Investor Survey Report reveals future institutional investment trends as the pandemic transformed how we live, work, and play.
Gunnar Branson and Benjamin van Loon | AFIRE
What is it that makes London, Stockholm, Berlin, Amsterdam, and Paris the top European cities for office investment? And what could this mean for other global cities?
Dr. Megan Walters | Allianz Real Estate
Be careful about advice you hear from surveys— it will not always play out as expected.
Jim Costello | MSCI Real Estate
Outside of WWI and II, the US working age population has never declined. As of 2021, that statement is no longer true.
Stewart Rubin and Dakota Firenze | New York Life Real Estate Investors
Two years after offices closed due to the COVID pandemic, the debate over the longterm future of the office continues. What should office investment look like going forward?
Dags Chen, CFA; Ryan Ma, CFA; and Ryan LaRue | Barings Real Estate
US garden apartment investments are offering outsized return potential –but access remains a challenge.
Martha Peyton, PhD | Aegon Asset Management
As an increasingly popular asset class for institutional investors, single-family rentals are supported by strong future demand drivers to propel sector outperformance.
Daniel Manware | Nuveen Real Estate
The US is in the middle of one of the biggest housing crises that the country has ever seen. It needs a more resilient approach to housing.
Todd Williams | Grubb Properties
As a labor-intensive and service oriented asset class, hospitality is uniquely positioned to be a leader in advancing sustainability goals for investors.
Charlotte Kang, Geraldine Guichardo, Lori Mabardi, and Emily Chadwick | JLL
While continuation vehicles were once viewed as a signal of delay or failure, market sentiment is rapidly changing.
Max LaVictoire and Ashley Anderson | Hodes Weill & Associates
A note from AFIRE's Ethics Chair on the need for maximizing ethics in an age where globalization is under threat.
El Rosenheim | Profimex