Researchers focused on water innovations for the region, including Rachel Havrelock, director of the Freshwater Lab at the University of Illinois at Chicago, have suggested something more intuitive: Water Belt. Referencing drought, floods, and other massive weather events impacting livelihoods and even lifespans in increasingly large swaths of the US—including the sunny southern states—Havrelock writes, "there is a need to transform our much-maligned Rust Belt into a Water Belt, a freshwater oasis for the world."[14]
While AFIRE and Summit Journal will increasingly promote terminology along these "post-Rust Belt" lines (see editor's note), many of the local population refer to theirs as the "Great Lakes Region." The region has a shared culture and common history of immigrants from around the world, and for decades, linguists have studied the shared dialect of the region (what they call "the Great Lakes shift," which stretches from New York in the East to Wisconsin in the West). Shared language, shared education, shared industries, and shared lakes.
COMPARING THE BELTS
So, how does the Water Belt measure up to the Sun Belt? By current metrics, it doesn't.
Local taxes are higher in the Great Lakes. Many governments have underfunded their infrastructure and pension plans to the point where bankruptcy and/or even higher taxes are likely. Overall cost of living is higher in the North, and it's colder in the winter. Not attractive. But how permanent and how much of a difference is there between the two?
Migrants to the Sun Belt often talk about a lower cost of housing. For some time, that has been the case, but a quick look at Zillow's listed home values tells a different story: Phoenix, Miami, and Atlanta are all higher than the most expensive Great Lakes city, Chicago, while Dallas and Houston aren't far behind.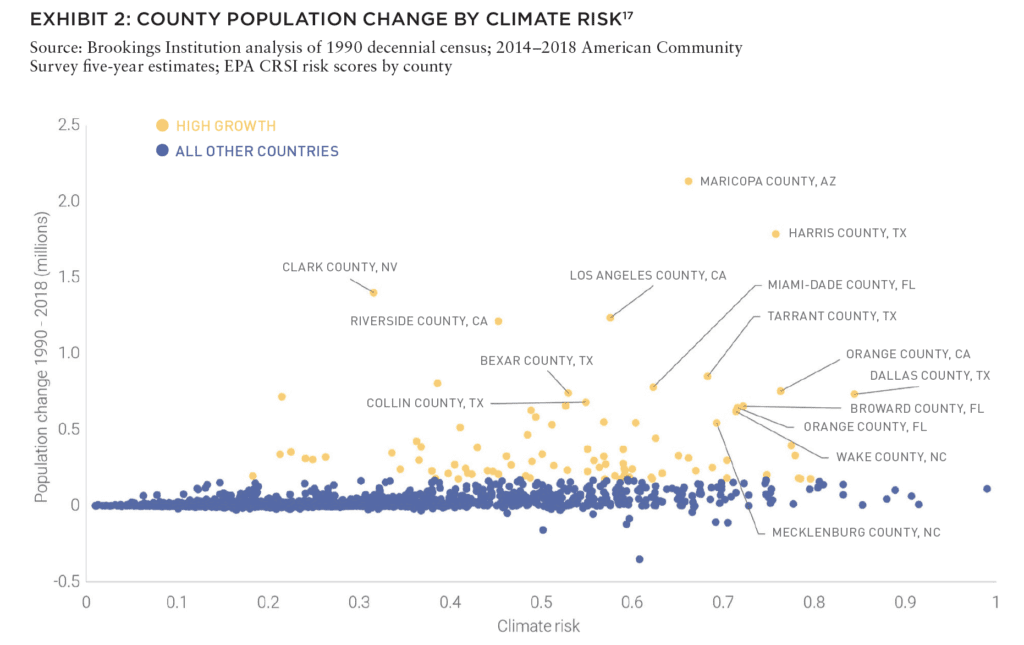 This is, of course, a blunt measurement of the cost of housing, but directionally it points to decreased arbitrage. The fast-growing populations are increasing the demand and cost of housing. But what about taxes? For example, many companies and individuals have relocated to Texas to take advantage of lower taxes. But population growth and climate change could put an end to that, sooner than we think.
With more than twenty years of significant growth in the Sun Belt population, the need for high-quality infrastructure has only increased, while zoning and building practices have made infrastructure such as power, roads, and sewage more expensive. Climate change makes it cost more. In February 2021, Texas was devastated by what was called a "freak winter storm" with temperatures as low as -10C (13F), 69 deaths, and US$18 billion in damages. With infrastructure and buildings designed primarily for temperate to hot weather, the Arctic temperatures were especially devastating. Millions of people were left without heat or drinkable water for days, and even weeks.[15]
Texas will likely need to improve their power grid and require more tax revenues to do so. Of course, the leadership of Texas will make every attempt to keep that increase to a minimum—but no one can get something for nothing.
And that's not the last "freak storm" that will challenge the Sun Belt. According to the Environmental Defense Fund, "Though it can be hard to pinpoint whether climate change intensified a particular weather event, the trajectory is clear—hotter heat waves, drier droughts, bigger storm surges and greater snowfall."[16]
CLIMATE CHANGE IS ALREADY HERE, AND MOVING FAST
Climate change has moved from something that might happen in the decades to come, to something that is happening right now: drought, fire, storms and floods.
At the end of 2020, 40% of the US was in a state of drought—most of it in the Southwest and Western regions.[18] During 2020 there were 57,000 wildfires that engulfed more than 10.3 million acres—an increase of 50% compared to 2019.[19] The smoke from these fires could be seen and smelled thousands of miles away, and even hid the sun in some places.
According to the National Oceanic and Atmospheric Administration, the Southeast saw a "[threefold] increase in flooding days" from 2019 to 2000. For example, Charleston, South Carolina, had thirteen days where flooding reached damaging levels in 2019, compared to only two days typical in 2000. And along the western side of the Gulf, in Texas, Sabine Pass and Corpus Christi had 21 and 18 flood days, respectively, in 2019.[20] Miami may not be underwater (yet), but they are experiencing record amounts of "sunny day floods," or flooding that occurs at high tide. Between 9 and 19 of these floods occurred in the Miami area in 2019.[21]
In 2020, the US experienced a record-breaking hurricane season with thirty named storms, and floods. The last time the US had a record-breaking year was 2005. There are and will be larger storms, more often, and the records continue to be broken.
The more frequent these events, the less of an advantage the Sun Belt has, and the more the Water Belt is positioned for in-migration and growth. How long will the population of the Sun Belt continue to grow, especially in the face of these weather events and other economic pressures? And at what point does the Great Lakes Region, and its former industrial capitals grow again? The answer to these questions can be found in the facts, but depends on assumptions for context.
—
ABOUT THE AUTHORS
Gunnar Branson is the CEO of AFIRE, the association for international real estate investors focused on commercial property in the United States. Benjamin van Loon is the communications director for AFIRE and the Editor-in-Chief of Summit Journal.
—
NOTES
1. William Goldman The Princess Bride (Film) 20th Century Fox, September 25, 1987

2. North America Moving Services 2020 Migration Report avlnavlblob.blob.core.windows.net/northamerican-com/docs/default-source/ default-document-library/key-takeaways—2020-migration-report.pdf?sfvrsn=3b1554ef_0

3. Edward Glaeser and Kristina Tobio, The Rise of the Sunbelt Taubman Center Policy Briefs, May 2007 hks.harvard.edu/sites/default/files/centers/taubman/files/sunbelt.pdf

4. The Great Lakes Economy: The Growth Engine of North America Council of the Great Lakes Region (Web site) councilgreatlakesregion.org/the-greatlakes-economy-the-growth-engine-of-north-america/

5. The Great Lakes Economy: The Growth Engine of North America Council of the Great Lakes Region (Web site) councilgreatlakesregion.org/the-greatlakes- economy-the-growth-engine-of-north-america/

6. "The Great Lakes Economy: The Growth Engine of North America Council of the Great Lakes Region (Web site) councilgreatlakesregion.org/ the-great-lakes-economy-the-growth-engine-of-north-america/

7. The Great Lakes Economy: The Growth Engine of North America Council of the Great Lakes Region (Web site) councilgreatlakesregion.org/the-greatlakes- economy-the-growth-engine-of-north-america/

8. The Great Lakes Economy: The Growth Engine of North America Council of the Great Lakes Region (Web site) councilgreatlakesregion.org/the-greatlakes- economy-the-growth-engine-of-north-america/

9. akronlegalnews.com/editorial/7004

10. The Great Lakes Economy: The Growth Engine of North America Council of the Great Lakes Region (Web site) councilgreatlakesregion.org/the-great-lakes-economy-the-growth-engineof- north-america/

11. brookings.edu/blog/the-avenue/2018/05/31/the-nations-freshwater-coastis- a-key-fulcrum-for-rust-belt-revival/

12. rochesterbeacon.com/2019/06/27/its-not-the-rust-belt-its-the-blue-belt/

13. industryweek.com/operations/energy-management/article/21964224/ohioisnt-the-rust-belt-its-the-green-belt

14. chicagotribune.com/opinion/commentary/ct-perspec-water-great-lakesrust- belt-economy-0209-20180208-story.html

15. Alex Meier, 69 deaths, 44 hours of freezing, $18 Billion in damage: This week's winter storm, by the numbers, ABC13 Eyewitness News February 21, 2021 abc13.com/2021-texas-winter-storm-weather-how-many-peoplelost- power-boil-water-advisory/10356914/

16. Environmental Defense Fund (EDF) Extreme weather gets a boost from climate change edf.org/climate/climate-change-and-extreme-weather

17. Christopher Coes, Tracy Hadden Loh, and Tola Myczkowska The Great Real Estate Reset, Brookings Institute December 16, 2020 brookings.edu/essay/distorted-and-destabilized-housing-markets-are-pushinghouseholds- into-climate-risky-low-opportunity-communities/

18. US Drought Monitor Update, National Centers for Environmental Information, December 1, 2020 ncei.noaa.gov/news/us-drought-monitorupdate- december-1-2020

19. Facts + Statistics: Wildfires Insurance Information Institute December 2020 iii.org/fact-statistic/facts-statistics-wildfires

20. US high-tide flooding continues to increase, National Oceanic and Atmospheric Administration (NOAA) July 14, 2020 noaa.gov/mediarelease/ us-high-tide-flooding-continues-to-increase

21. Alex Harris, Miami broke an all-time record for high tide floods in 2019, NOAA says Miami Herald July 14, 2020 miamiherald.com/news/local/ environment/article244217807.html