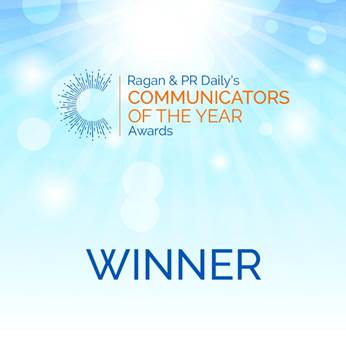 AFIRE's Communications Director and Editor-in-Chief of its in-house publication, Summit Journal, Benjamin van Loon, has been named Editor of the Year by the Ragan and PR Daily's 2020 Communicators of Year Awards.
Ragan and PR Daily's Communicators of the Year recognizes the industry's best individual communications practitioners and teams from the past year. These winners surpassed their organizations' and clients' expectations.
As reported by Ragan's and PR Daily, "Within months of joining ASFIRE in mid-2019, [Ben] operationalized AFIRE's editorial operations, open access policies and editorial guidelines. When the pandemic struck, he doubled Summit Journal's frequency, accelerated AFIRE's product solutions and thought leadership tools, developed a membership mobile app, and introduced the AFIRE podcast."
Ben joined as AFIRE's first Communications Director in 2019, responsible for strategy, innovation, technical operations, communications, and thought leadership for the association. He also oversees Summit Journal, which has received several top awards for content and design, including a Gold Stevie Award for Association and Nonprofit Publications from the 2021 American Business Awards.
Before joining AFIRE, Ben held several marketing communications and strategy leadership roles for global organizations across urban planning and architecture, economic development, public relations, professional services, and business journalism.
An active writer and editor, Ben holds a certificate in editing from the University of Chicago and a master's degree in communications from Northeastern Illinois University, where he also teaches strategic communications and public relations.
Details about Ragan and PR Daily's Communicators of the Year Awards and the list of 2021 winners are available at ragan.com/awards/communicators-of-the-year-awards/2020/winners/
Ragan and PR Daily Award programs celebrate the most successful campaigns, initiatives and teams in the communication, PR and marketing industries. As the leading voice in organizational communications—both internal and external—Ragan Communications recognizes those who create and cultivate best practices.