London, UK, June 9–10, 2022

AFIRE members are invited to London this June 9–10 for the 2022 AFIRE European Conference, one of AFIRE's premiere executive events for real estate leaders and institutional investors from around the world.
Held at the the Langham Hotel on London's West End, this two-day conference features a robust program with tours, market and asset updates, information-packed sessions, and rich networking opportunities for AFIRE members to connect at the forefront of innovation and thought leadership for the future of commercial real estate.
Register now and watch afire.org and AFIRE Global for more updates, agendas, health policies, and other important information.
(This event is only for AFIRE members and invited guests.)
---
S P E A K E R S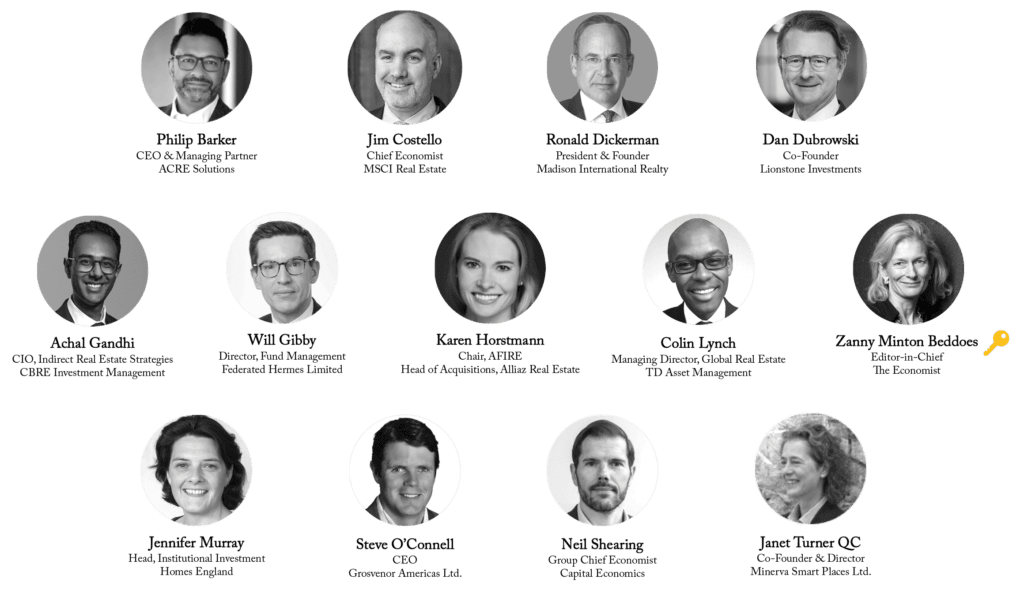 ---

AFIRE is actively monitoring COVID-19 trends and guidance provided by the CDC, ECDC, and Washington, DC, and the impact that health measures or other factors may have on the 2022 European Conference. The health and safety of our in-person meeting attendees, staff, and guests is our top priority, and AFIRE is committed to creating a safe environment for this event.
All in-person attendees will need to (A) provide a proof of vaccination and (B) be encouraged to wear a mask for any indoor activities.
AFIRE will provide sanitized, medical-grade masks on-site.
Proof of vaccination can be provided digitally (via scanned PDF or other file type) prior to the event by emailing Asmait Tewelde, Meeting Director, atewelde@afire.org. Vaccine forms may also be shown at check-in prior to receiving your event badge.
(All vaccine and COVID result forms will be presented for review by event staff and will not be retained for any reason.)
By registering for the 2022 European Conference, you agree to the AFIRE 2022 EUROPEAN CONFERENCE COVID-19 LIABILITY WAIVER AND ASSUMPTION OF RISK.
If you are displaying any symptom of COVID-19 (e.g., sore throat, cough, fatigue, headache, rash, fever, body aches, etc.) and/or you have recently and knowingly been exposed to anyone who tested positive, do not attend the conference in person. Your registration will be fully refunded (or partially refunded should you opt for the virtual alternative).
AFIRE may need to adjust its policies and procedures to remain compliant with public health measures and will communicate any such actions to meeting participants with expediency and transparency.
In addition to operating in compliance with municipal and federal health and safety standards, event managers will implement the following best practices:
Usage of optional, color-coded stickers or wrist bands to communicate social distancing preference.

Green: Handshakes and hugs okay; no distance desired
Yellow: Bows or fist bumps okay; partial distance desired
Red: No physical contact; full social distance desired

Compliance with state, local, and venue guidance regarding health and safety, and will encourage frequent hand washing, sanitizing, and social distancing.
On-site signage will include reminders for physical distancing throughout the meeting space, highlighting rules around health and safety practices.
Disposable masks and hand sanitizer stations will be placed throughout the event space and common areas, and clearly marked.
High-touch areas will be regularly cleaned and sanitized.
AFIRE is committed to implementing conscious and intentional measures that will not only help reduce the risk of COVID-19, but also promote health and safety standards for all AFIRE events. Please continue to check this page, as well as local, national, and international guidance, for other COVID-19 mitigation measures. AFIRE will revise any or all of these policies as needed and required or recommended.
CANCELLATIONS AND ADJUSTMENTS
Given the continually evolving nature of COVID-19, AFIRE maintains a flexible cancellation or registration adjustment policy for the 2022 European Conferencer.
AFIRE will provide full refunds for in-person cancellations and partial refunds for in-person-to-virtual registration adjustments.
Requests for refunds or adjustments received prior to June 5, 2022 will be processed within a few business days. Any requests received from June 5, 2022 up to the beginning of the event on June 9, 2022 will be processed after the event concludes.
In-person registrations can be cancelled at any time up to the morning of June 9, 2022. A full refund will be provided.
All requests for cancellations or alterations should be made in writing to atewelde@afire.org.
Lodging cancellations or adjustments should be handled directly with your hotel.
MEDIA, PHOTOGRAPHY, ETIQUETTE
The 2022 European Conference is closed to all press and media.
AFIRE reserves the right to capture and broadcast digital media content in the form of professional photographs, live-streaming, audio, and video during the 2022 European Conference.
By registering for the meeting, you hereby grant permission to AFIRE and its representatives to photograph and/or record you during the in-person and virtual events at the 2022 European Conference, and to distribute, broadcast, use, or otherwise globally disseminate, in perpetuity, such media without any further approval or payment.
All meeting attendees agree to observe AFIRE's House Rules regarding protected discussions, mutual respect, and inclusivity.
THURSDAY / JUNE 9
13:00–17:00 | Tour of London Projects
      22 Bishopsgate | Eccleston Yards
      (Transportation will be provided)
18:00–21:00 | Welcome Reception & Seated Dinner
---
FRIDAY / JUNE 10
08:00–09:00 | Breakfast
09:00–09:30 | Meeting Opens/Welcome Remarks
09:30–10:15 | Capital Markets: A Global Perspective
       - Neil Shearing, Capital Economics
10:15–10:30 | Morning Break
10:30–11:30 | Up and Coming: Diving Into Secondary Markets
       - Phil Barker, ACRE Solutions
       - Ronald Dickerman, Madison International
       - Achal Gandhi, CBRE Investment Management
       - Colin Lynch, TD Asset Management
11:30–12:30 | Keynote Session: Geopolitics and the Future of Globalism 🔑
       - Zanny Minton Beddoes, The Economist
12:30–13:30 | Lunch + Networking
13:30–14:30 | New Rules of the Road: Trends in ESG
       - Steve O'Connell, Grosvenor Americas
       - TBD
14:30–15:30 | Making Information Work: Turning Data into Action
       - Jim Costello, MSCI Real Estate
       - Dan Dubrowski, Lionstone Investments
15:30–15:45 | Afternoon Break
15:45–16:45 | Outwards and Upwards: Workforce and Affordable Housing
       - Will Gibby, Federated Hermes Limited
       - Jennifer Murray, Homes England
       - Janet Turner QC, Minerva Smart Places
17:00–19:00 | Closing Reception
(Schedule subject to change.)
---