Summit Journal is the official publication of AFIRE, the association for international real estate investors focused on commercial property in the United States. Readers stand at the intersection of real estate, institutional investing, data science, and economics.
Published quarterly in digital and print formats, the award-winning Summit features articles from AFIRE members and guest experts as an extension of the association's mission to provide an essential forum for real estate investment thought leadership through research and analysis of real estate capital markets, cross-border issues, policy, demographics, technology trends, and management topics.
Summit is a free, open access trade journal.
ISSN 2689-6257 (Print)
ISSN 2689-6257 (Online)
All issues of Summit are published in English. The first issue was published in April 2019.
Calls for proposals and submissions are currently OPEN.
2021 CALENDAR & SCHEDULE
GUIDELINES & PROCESS
Summit seeks original articles, research, and critical analysis of real estate capital markets, cross-border issues, policy, economics, technology, and management from contributors involved in any aspect of the real estate industry.
Our general submission and path to publication is as follows:
Pre-Approval:


Author(s) submit proposal, abstract, or partially completed draft
Editors review, discuss, and provide feedback and/or approval
Author(s) agree, sign copyright agreement, and commence writing


Writing:


Author(s) submit first draft (and graphics, charts, tables, and/or raw data)
Editors review and provide feedback as needed
Author(s) revise and resubmit as needed


Finalize:


Editors finalize draft and provide fully designed article for final author approval
Author(s) provide final proofreading, fact checking, and approvals


Publication
Summit articles must be written in English and are limited to a maximum length of 1,500 words. Citations and additional endnotes may also be included, with a maximum total length of 200 words.
Summit encourages the use of graphics, charts, and tables to illustrate submissions. The editors assume that the contributor owns the right to have the graphics reproduced. Such assets should be sent as separate, standalone files (not embedded within Word documents), and can be presented as EPS, TIFF, JPG, PNG, PSD, or AI files. When able, please also provide raw data for charts and tables.
The editors reserve the right to edit all article content to ensure compliance with these guidelines.
E-mail article abstracts, outlines, or full drafts, as Microsoft Word attachments, to Benjamin van Loon, Communications Director, at bvanloon@afire.org.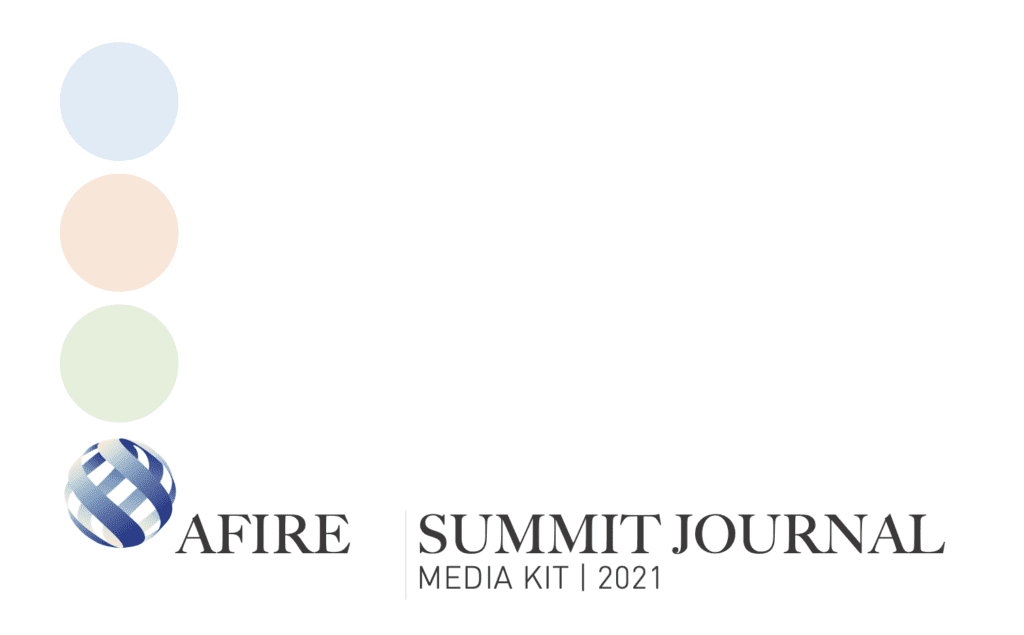 PUBLISHER & CONTACTS
Gunnar Branson, CEO/Publisher
gbranson@afire.org | +1 202 312 1401 | LinkedIn
Benjamin van Loon, Communications Director/Editor-in-Chief
bvanloon@afire.org | +1 202 312 1405 | LinkedIn
AUDIENCE
The audience of Summit Journal and other AFIRE media products reflects the core AFIRE membership, which counts more than 200 member organizations from 24 countries and representing approximately USD$3 trillion AUM.
Delegates of AFIRE member organizations include senior executives, institutional investors, investment managers, researchers, and service providers focused on commercial property in the US.
ACCESS & SUBSCRIPTIONS
Printed issues of Summit are available at no cost to all AFIRE member organizations. Printed issues of Summit may be made available to non-member organizations, individuals, and universities upon request.
The latest digital issue and web-based contents of current and past issues of Summit are available and accessible to members and non-members at afire.org/summit. Archived issues can be found at afire.org/summit/summitarchive.
COPYRIGHTS
Summit assumes that all submissions are original works and owned by the author. Authors will be sent a copyright agreement for Summit's nonexclusive rights to the submitted material. The agreement allows Summit to use the material freely in all media, with attribution, but does not restrict the right of the author(s) to use the material elsewhere.
DISCLAIMER
The publisher of Summit is not engaged in providing tax, accounting, or legal advice through this publication. No content published in Summit is to be construed as a recommendation to buy or sell any asset.
Some information included in Summit has been obtained from third-party sources considered to be reliable, though the publisher is not responsible for guaranteeing the accuracy of third-party information.
The opinions expressed in Summit are those of its respective contributors and sources and do not necessarily reflect those of the publisher.
EDITORIAL POLICIES & STYLE
With some minor exceptions, Summit generally complies with the latest editorial and citation standards set by the Chicago Manual of Style.
The editors maintain a collaborative approach to articles for Summit and are committed to working alongside contributors to ensure clarity, originality, integrity, and accuracy of content.
Advertising and Self-Promotion: Summit does not accept advertising or self-promoting content. Authors must limit self-referential or self-promoting language and avoid promotional references to platforms, tools, or business entities. First-person (I/we/us) should be used sparingly, if at all.
Citations: All data and quotations, when sourced from third-party websites or resources, must include must an accompanying citation. Citations are printed as endnotes for each article.
Disclosure and Disclaimer Statements: All articles published by Summit are covered by the AFIRE disclaimer statement (above). The editors reserve the right to remove any proprietary disclosure and disclaimer statements.
Headlines and Design: The editors reserve full creative control over all headlines, sub-headlines, pull quotes, editorial ephemera, and final article design.
---
---