(Featuring Byron Carlock, US Real Estate Practice Leader, PwC)
A conversation with Byron Carlock, US Real Estate Practice Leader, PwC, on the future of the built environment.
In the early months of COVID-19, life dramatically changed for everyone—but in this next phase of this crisis, as people start to go back to work and school, how should real estate change?
PwC's US Real Estate Practice Leader Byron Carlock, Jr talks about how real estate will transform in the months to come and the forces driving that change.
FEATURING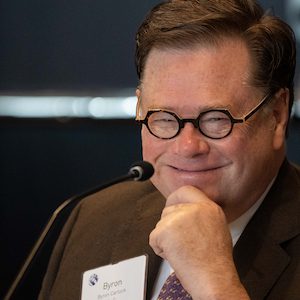 Byron Carlock leads PwC's US Real Estate Practice. With 28 years of experience serving the industry, Byron brings extensive knowledge of the full real estate life cycle including matters ranging from strategic planning and property transaction advisory to capital formation, and business plan execution. In addition, he has expertise in governance, board matters, mergers and acquisitions and corporate conflict matters. Byron has experience advising major clients including corporate owners and users, developers, hospitality organizations, investors and REITs.
Byron is a CPA, currently a governor of the Urban Land Institute (ULI), a member of Real Estate Roundtable, NAREIT and AFIRE. He is also a board member of Harvard Club of Dallas and a board member emeritus of Harvard Business School.
SUBSCRIBE TO THE AFIRE PODCAST
INTERESTED IN COLLABORATING ON AN AFIRE PODCAST? LET US KNOW.
DISCLAIMER
The publisher of AFIRE Podcasts is not engaged in providing tax, accounting, or legal advice through this publication. No content published in the AFIRE Podcast is to be construed as a recommendation to buy or sell any asset. Some information included in the AFIRE Podcast has been obtained from third-party sources considered to be reliable, though the publisher is not responsible for guaranteeing the accuracy of third-party information. The opinions expressed in the AFIRE Podcast are those of its respective contributors and sources and do not necessarily reflect those of the publisher.
Benjamin van Loon, Communications Director
bvanloon@afire.org | +1 202 312 1405