(Featuring Amanda Davis, Leadership Content Manager, Measurabl, and Sara Anzinger, Senior Vice President, Capital Markets, Measurabl)
Sustainability—with ESG (environmental, social, governance) data as its prevailing metric—is far from a new business concern. Though ESG may have only recently caught fire in the commercial real estate industry, investors have long been aware of its power to illuminate a company's ability to maintain profitability, retain talent, and withstand unexpected disasters and disruptions.
In the midst of a global pandemic, every industry is racing to adjust its business practices to meet new demands and prepare for an uncertain future. What does this mean for real estate finance and ESG?
In this episode of the AFIRE podcast, Amanda Davis and Sara Anzinger at Measurabl talk about how COVID-19 has underscored the relevance and importance of ESG and how it has become a valuable indicator of a company's ability to withstand future shocks.
This podcast is based on the article "Why it's Time to Digitize ESG" from Summit Journal (Summer 2020). Read the full article here.
FEATURING

Amanda Davis is Thought Leadership Content Manager for Measurabl, the world's most widely adopted ESG software for commercial real estate. More than 9 billion SF/836 million SM of commercial property valued over US$2 trillion across 75 countries use Measurabl to measure, manage, and disclose ESG performance.
Measurabl aggregates investment-grade ESG data that stakeholders require, incorporating features such as automated utility data collection, building and portfolio performance benchmarking, and advanced reporting functionality. Measurabl also integrates global physical climate risk data into its platform to help firms understand their exposure at the portfolio and asset levels and perform due diligence exercises. Measurabl provides streamlined access to a variety of services such as ENERGY STAR certification and data assurance, making it a comprehensive, time-saving solution for ESG management.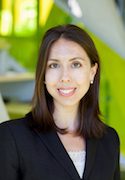 Sara Anzinger is Measurabl's Senior Vice President of Capital Markets. Before joining Measurabl, Sara drove the development and implementation of Fitch Ratings' Sustainable Finance initiative in the Americas, and served as Managing Director of Real Estate Debt and Fixed Income at GRESB. Sara has worked for Royal Bank of Canada and PNC Bank and spent much of her career in commercial real estate banking and structured finance. She holds a bachelor's degree in economics from Rollins College and an MSc in international finance from the University of Amsterdam.
SUBSCRIBE TO THE AFIRE PODCAST
INTERESTED IN COLLABORATING ON AN AFIRE PODCAST? LET US KNOW.
DISCLAIMER
The publisher of AFIRE Podcasts is not engaged in providing tax, accounting, or legal advice through this publication. No content published in the AFIRE Podcast is to be construed as a recommendation to buy or sell any asset. Some information included in the AFIRE Podcast has been obtained from third-party sources considered to be reliable, though the publisher is not responsible for guaranteeing the accuracy of third-party information. The opinions expressed in the AFIRE Podcast are those of its respective contributors and sources and do not necessarily reflect those of the publisher.
Benjamin van Loon, Communications Director
bvanloon@afire.org | +1 202 312 1405