Data center investments have proven resilient in periods of economic volatility—and they're only going to become more essential and important into the future.
Once viewed as a niche real estate investment, data centers have risen in popularity as the need for data storage and processing has rocketed in parallel with the amount of data consumed by individuals, businesses, and new technologies.[1] While pandemic-related social restrictions have accelerated data usage trends, data centers have long been vital to the global economy's reliance on connectivity. With an attractive risk/return profile and significant barriers to entry, the industry has proven itself resilient in both good and bad economies, making high-quality data centers an increasingly attractive opportunity for real estate investors.
It is no secret that our modern lives revolve around data. In the US and Europe, the average home has ten or more internet-connected devices—a number expected to double in the next two years as the Internet of Things (IoT) and disruptive technologies such as artificial intelligence (AI) become more prevalent. The global volume of daily data production is expected to reach 175 zettabytes (ZB) in 2025 (see Exhibit 1); nearly three times what it is today.[2] To put this in perspective, one ZB represents one trillion gigabytes (GBs). Storing 175 ZB on DVDs would require a stack of discs that would circle Earth 222 times.[3]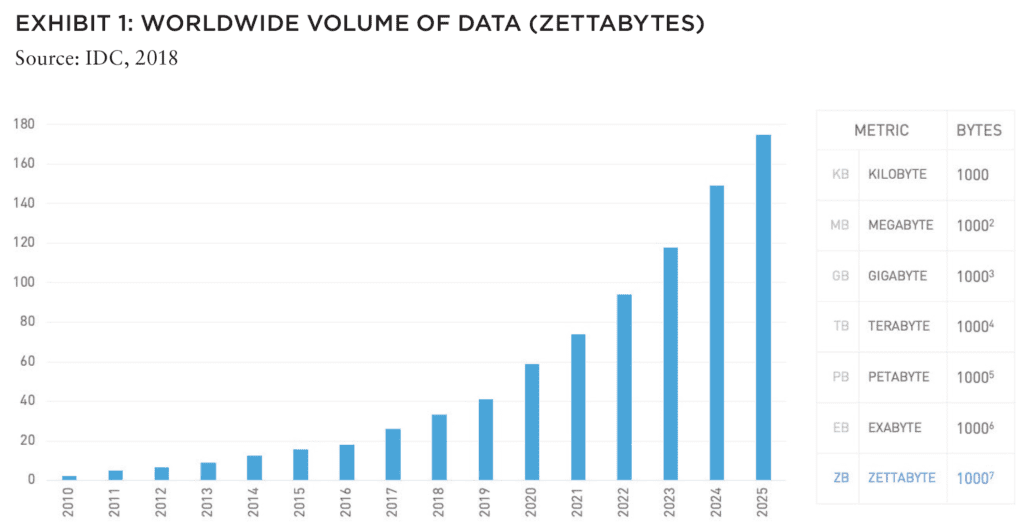 As the world grows increasingly interconnected, the demand for data requires more storage solutions and robust processing power. While in the past the primary purpose of data centers was to simply store data, today computing power and network connectivity have become the most important purpose for these facilities. Data centers have become the cornerstone of the information economy.
DEMAND DRIVERS FOR DATA CONSUMPTION
The exploding demand for data is coming from three main categories of users: consumers, businesses, and emerging technologies.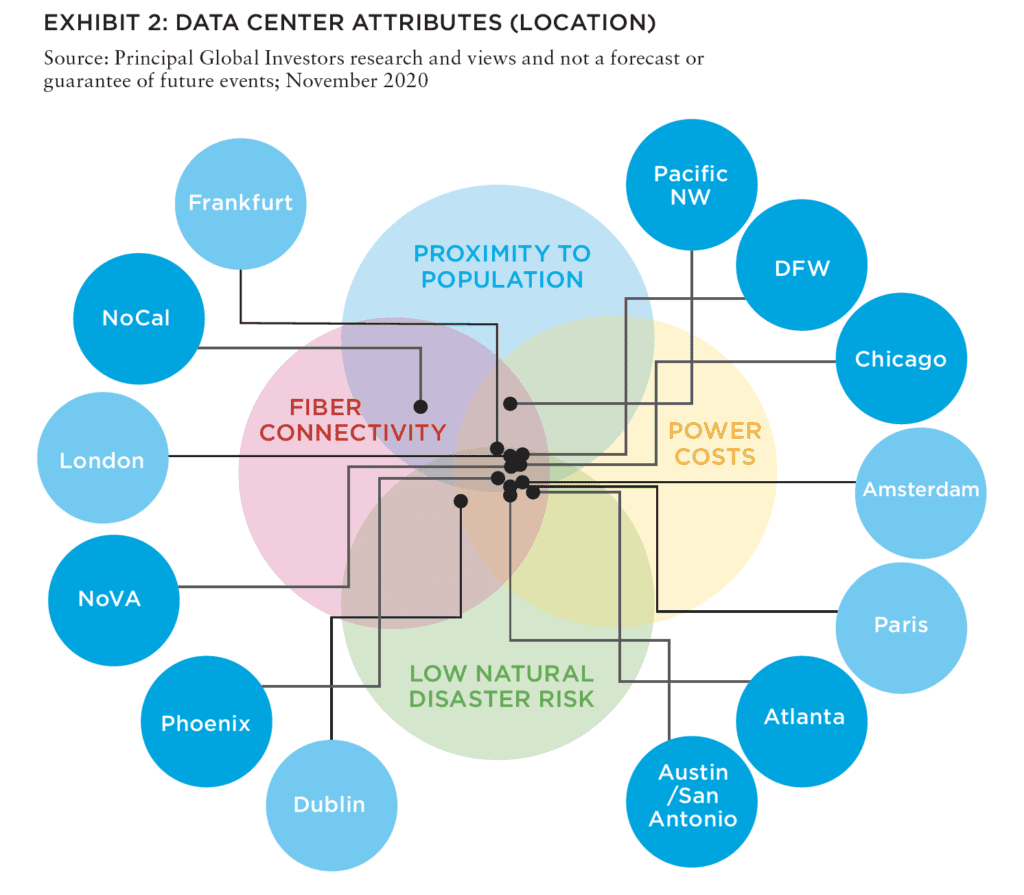 As consumers, we are well aware of our reliance on data-dependent activity, whether we are messaging friends, ordering dinner, or watching a video on our phones. And the world is only going to get more dependent on data connectivity. By 2023, the number of global internet users is expected to soar to 5.3 billion—roughly two-thirds of the world's population—up from 3.9 billion in 2018.[4] In addition to expanding access to social media and e-commerce, this connectivity will continue to allow consumers to move from a world of physical media (e.g., disks, print, and broadcast content) to on-demand services such as streaming music, movies, games, and more. And as the IoT becomes more ingrained in our lives, consumers will use even more data-intensive devices.
Technological advances are increasing the demand for low-latency and high-bandwidth data, driving the need to have computing power placed in close location to end users. As AI and virtual reality expand and continue to be applied to new applications, their data-intensive nature will require a higher level of processing power. Further down the road, other data-intensive technologies necessary for the expansion of edge computing (that is, a computing paradigm that stresses geographical proximity to high-demand usage locations) and autonomous vehicles and facilitated by 5G will also require a significant amount of low-latency connectivity.
PROCESSING AND STORING THE WORLD'S DATA
Data center tenants can be classified generally as enterprises, collocation providers, or cloud service providers. Enterprise tenants tend to be Fortune 100 companies with the resources to support their own dedicated facility. While these large companies may outsource certain data infrastructure needs, they often have propriety and mission critical systems that cannot be easily outsourced and require the security of their own dedicated facility.
Collocation providers are tenants that share a data center because of the economic efficiencies provided by the asset—similar to a coworking facility. Collocation providers also enable users to access a high-quality data center without having to make large capital investments. These users are generally small-to-medium businesses, or large enterprises that may need a satellite location for redundancy or disaster recovery purposes.
A cloud service provider allows its customers to convert physical technology assets into a subscription service. For these tenants, migrating data to the cloud creates a scalable platform with operating expenses more closely in line with utilization. The fastest growing segment of data center users are "hyperscale" tenants, the largest of the cloud service providers (e.g., Amazon Web Services, Microsoft, Google), which generate significant economies of scale and provide an attractive alternative to a traditional enterprise facility.
A data center is built to store and process the data of its tenant in the most secure way possible, while providing maximum uptime. As a result, redundancy is built into every component, and there are typically multiple sources of power as well as backup power systems. In addition to the security of the facility, tenants consider many other factors, such as access to fiber connectivity, operational costs, and a low susceptibility to natural disasters. The proximity of the facility to the population it serves is becoming increasingly important, because latency—the time it takes to request, process, and return data—is becoming more problematic and disruptive as businesses and individuals rely on applications loading quickly. No one wants to see the dreaded "buffering" notification.
GREAT LAKES / Tightening the Belts: How are shorthand labels like the "Sun Belt" and the "Rust Belt" shaping investment decisions? Should they?
AFIRE | Gunnar Branson and Benjamin van Loon

SOCIAL ISSUES / The Great Real Estate Reset: A data-driven initiative to remake how and what we build.
Brookings | Christopher Coes, Jennifer S. Vey, and Tracy Hadden Loh

SOCIAL ISSUES / Confronting the Myth: The events of the past year have driven businesses to confront racial inequity, but some still shy away from the challenges needed to make real progress.
Alfred Dewitt Ard Consulting | Shumeca Pickett

INDUSTRY OUTLOOK / CRE Prospects Post-COVID-19: How is commercial real estate set to perform in the post-COVID world?
Aegon Asset Management | Martha Peyton

HOSPITALITY / Time to Check In: If history is a guide, the time to invest in hotels is when things look bleak. This appears to be one of those times.
Barings Real Estate | Jim O'Shaughnessy

HOSPITALITY / Hoteling 2.0: The pandemic has impacted the hospitality, but a growing wave of non-traditional investors has shown heightened interest in the evolving industry.
JLL Hotels & Hospitality Group | Gilda Perez-Alvarado

RESIDENTIAL / Safe as Houses?: The future of residential investments is all about demographics—and the forces behind them.
American Realty Advisors | Sabrina Unger

RESIDENTIAL / Housing for Goldilocks : The pandemic highlights the advantages of single-family and appears to have accelerated migration to less dense, more affordable areas.
GTIS | Eliot Heher and Robert Sun

DATA CENTERS / Data Centers, Stage Center: Data center investments have proven resilient in periods of volatility—and they're only going to become more essential and important into the future.
Principal Real Estate Investors | Bob Wobschall

CLIMATE CHANGE (WHITE PAPER) / Rather Than the Flood: A comprehensive look at climate-induced water disasters and their potential impact on CRE in the US.
New York Life Real Estate Investors | Stewart Rubin and Dakota Firenze

LOGISTICS / Reforging the Supply Chain: The only way to deliver on the service promises of a booming logistics sector requires a complete reimagination of the supply chain.
Stockbridge | David Egan

DEBT AND LEVERAGE / Leveraging Control: Though leverage is an important part of capital funding, it's important to ask LPs if (and how) they should take control of their real estate leverage.
RCLCO Fund Advisors | William Maher and Ben Maslan

DEVELOPMENT / Recasting Risk and Return: The investment community can have an active role in economic recovery—but it will require recasting the traditional risk/return framework.
Standard REI | Shubrhra Jha

CORPORATE TRANSPARENCY ACT / Transparency Rules: Non-US-based investors face the disclosure regime of the Corporate Transparency Act. What do you need to know?
Pillsbury | Andrew Weiner

PENSIONS (WHITE PAPER) / Rising Pressures: The latest joint, in-depth report from Praedium and SitusAMC looks at rising fiscal pressures on state and local governments.
Praedium Group and SitusAMC Insights | Russell Appel, Peter Muoio, and Cory Loviglio | SitusAMC Insights

TALENT AND HR / Plugging the Skills Gap: Several trends are forcing change in the global commercial real estate industry, driving demand for new skills. How is the industry responding?
Sheffield Haworth | Max Shepherd

ESG / Operationalizing the Sustainability Agenda: During a time of unprecedented disruption, how should businesses approach the "new metrics" ESG of performance?
AccountAbility | Sunil A. Misser
SECULAR TRENDS SUPPORT THE "NEW NORMAL"
The impact of COVID-19 on the use of data has been monumental. Daily Zoom meeting participants were 10 million in December 2019, and in March 2020, this number ballooned to more than 200 million.[5] In first quarter of 2020, Netflix added 16 million new customers, closing out the year with more than 200 million subscribers.[6] The use of social media, streaming services, and online sales have all accelerated, making the processing and storing of this huge volume of data even more critical to the global economy.
One of the most important factors is the stickiness of data center tenants. Because of the significant tenant investment, as well as the difficulties of relocating data infrastructure, larger tenants tend to prefer long leases—typically in excess of ten years. What this means for investors is that these assets provide access to longer-term, growing income streams—typically from high-quality credit tenants.
In addition, several barriers to entry exist for new entrants into this space. These include the significant amount of capital and knowledge needed to build and manage a data center, as well as the difficulty in finding ideal locations with the confluence of a buildable site and the fiber and power infrastructure. These barriers create high costs for new entrants, constraining supply and creating more intrinsic value for existing data centers.
Taken together, these structural aspects of data centers can help drive attractive returns while also making them a strong portfolio diversifier, especially in light of elevated correlations among other asset classes.
A GLOBAL GROWTH OPPORTUNITY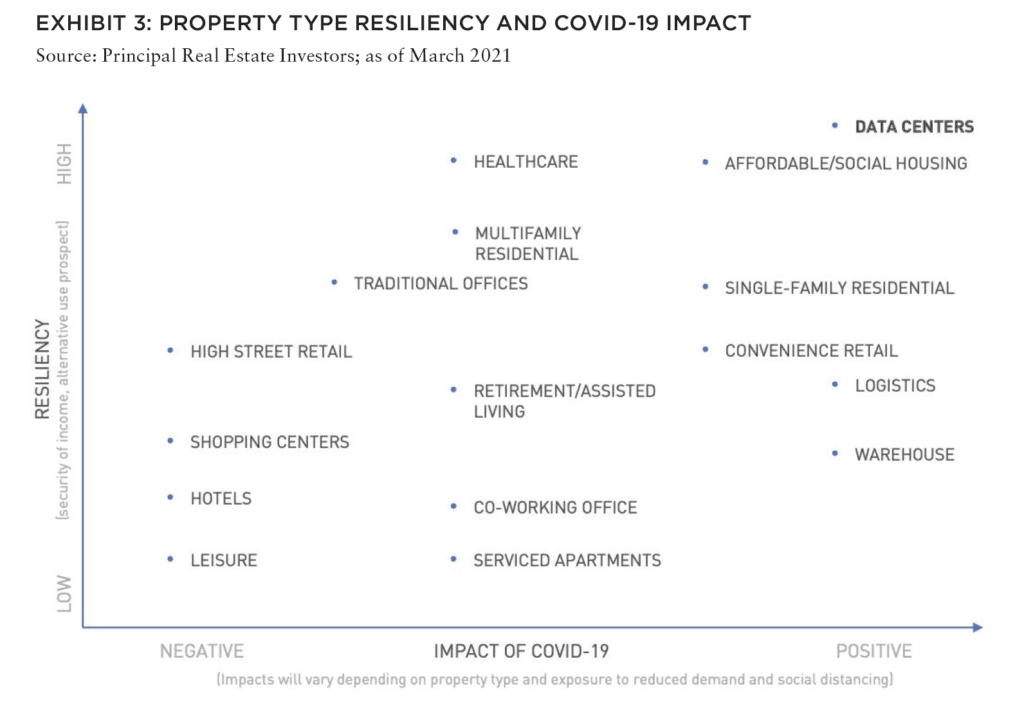 Data center investments have both growth and defensive attributes and have proven resilient in periods of economic growth and in economic downturns (see Exhibit 3). The industry will continue to institutionalize as real estate ownership continues to be bifurcated from the data center operations and third-party service providers enhance their offerings within the sector. For traditional real estate investors, these characteristics—along with an attractive risk/ return profile—present a compelling opportunity.
The data center industry does face its share of challenges, particularly where there are power constraints and strict zoning laws that can make sourcing projects more difficult and limit the scope of investment opportunities. However, the network of data facilities that underpin the global economy is presenting investors a unique opportunity to gain exposure to one of the most critical components of the information economy. Regardless of whether or not we are entering a new normal in how we live and work, it is clear data centers are becoming a progressively important part of our everyday lives.
—
ABOUT THE AUTHOR
Ben Wobschall is Managing Director and Portfolio Manager at Principal Real Estate Investors, the dedicated real estate investment group within Principal Global Investors, which builds on a vertically integrated platform that incorporates all disciplines of commercial real estate.
—
NOTES
1. See also: afire.org/summit/industrial-ugly-duckling-swan/
2 International Data Corporation (IDC), 2018, idc.com
3 "How Much Data Is There In The World?,"Bernard Marr & Co., Accessed 12
March 2021, bernardmarr.com/default.asp?contentID=1846
4 "Cisco Annual Internet Report (2018-2023) White Paper," Cisco, 9 March 2020,
cisco.com/c/en/us/solutions/collateral/executive-perspectives/annual-internetreport/white-paper-c11-741490.html
5 Zoom Video Communications, 1 April 2020
6 Joan E. Solsman, "Netflix Subscriber Growth Soars Past 200 Million
Members,"CNet, 20 January 2021, cnet.com/news/netflix-fourth-quarter-subscribers-soar-past-200-million-members-stock/