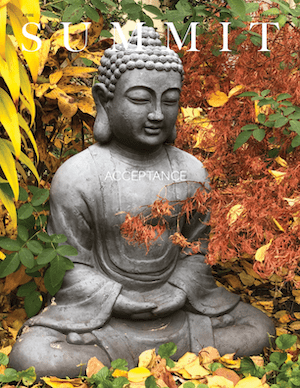 The past year was unlike any other. If we're lucky, we'll never see another one like it.
As travel restrictions, personal protective equipment, social distancing, and quarantine periods become a routine part of our lives, attitudes, decorum, and professional standards evolved in kind. Just as COVID-19 has accelerated trends already underway, it has also bolstered the importance of collaboration and community—underscoring the critical role played by associations, such as AFIRE, in advancing industry leadership.
To spite the existential threats enhanced by this elongated period of social distancing, Summit Journal has evolved at a rapid pace this year. We increased the frequency of Summit from twice-yearly to quarterly, and we have woven the ideas and experts from each issue into our entire media and events ecosystem, including podcasts, virtual meetings, videos, and our exclusive, members-only app, AFIRE Global.
Summit Journal was recently awarded a 2020 Platinum MarCom Award and a 2020 Graphic Design USA Award in recognition of our work—and the work of all our contributors—positioned at the forefront of thought leadership in our industry.
This current issue, appearing at the end of 2020—with the pandemic still spiking around the world and a volatile political situation in the US and abroad—is a continuation of the critical conversation AFIRE has been leading since 1988. Importantly, the ideas contained in this issue also represent the responsible outlook of an industry that demands the surety of the long-term view.
In "City Vs. Property," Grosvenor Americas builds a case for rethinking philosophies of portfolio diversification— an idea echoed in "Value-Add Beyond the Pandemic," from Barings Real Estate. Then, New York Life Real Estate Investors builds on all of these ideas—and gives investors valuable tools—in "Metros, Sectors, and Market Volatility." Berkshire Residential Investors looks at emerging demographic trends in "Shifting to the Suburbs;" Nuveen Real Estate provides an outlook on industrial real estate trends in Europe and the US in "Ugly Duckling, or Swan?;" and PwC, Madison International Realty, Tricon Capital, and Jonathan Rose Companies tackle nascent and accelerated trends in the future of technology, officing, operations, and sustainable communities.
Underscoring each of these ideas is the notion of acceptance— and that even if 2020 is not likely to ever be repeated again, the world in 2021 (and beyond) will be forever changed. Opportunity lies in accepting the present and looking into the future.
Benjamin van Loon
Communications Director, AFIRE
Editor-in-Chief, Summit
bvanloon@afire.org
+1 202 312 1405