Summit Journal, the official publication of AFIRE, was recently awarded the 2022 Gold MarCom Award, in recognition of its design, editorial strategy, and overall publishing program. This is the third consecutive year AFIRE and Summit Journal have received this prestigious award, which honors excellent in marketing and communication, and the creativity, hard work, and generosity of industry professionals.
Summit Journal is the official, award-winning publication of AFIRE, the association for international real estate investors focused on commercial property in the United States. Readers stand at the intersection of real estate, institutional investing, data science, and economics. To date, Summit Journal has received twelve top awards and honors for its design and content.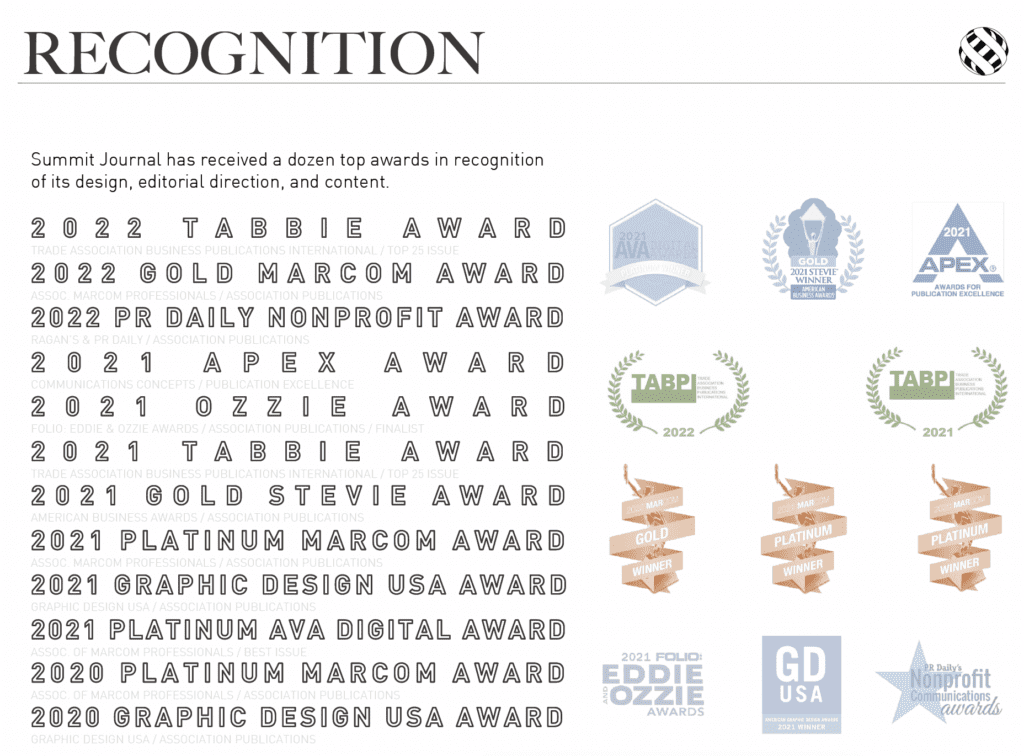 Published multiple times per year in digital and print formats, Summit features articles and original ideas and research from investors, executive leaders, and academics from around the world, focused on the research and analysis of real estate capital markets, cross-border issues, policy, demographics, technology trends, and management topics.
Summit is a free, open access trade journal.
Since its inception in 2004, MarCom has evolved into one of the largest, most-respected creative competitions in the world. Each year about 6,500 print and digital entries are submitted from dozens of countries.
MarCom is administered by the Association of Marketing and Communication Professionals (AMCP). The international organization, founded in 1995, consists of several thousand marketing, communication, advertising, public relations, digital, and web professionals. AMCP administers recognition programs, provides judges, and rewards outstanding achievement and service to the community. Entrants are not charged entry fees for work they create pro bono for nonprofits. In the past few years alone, AMCP has contributed more than $250,000 to charitable causes.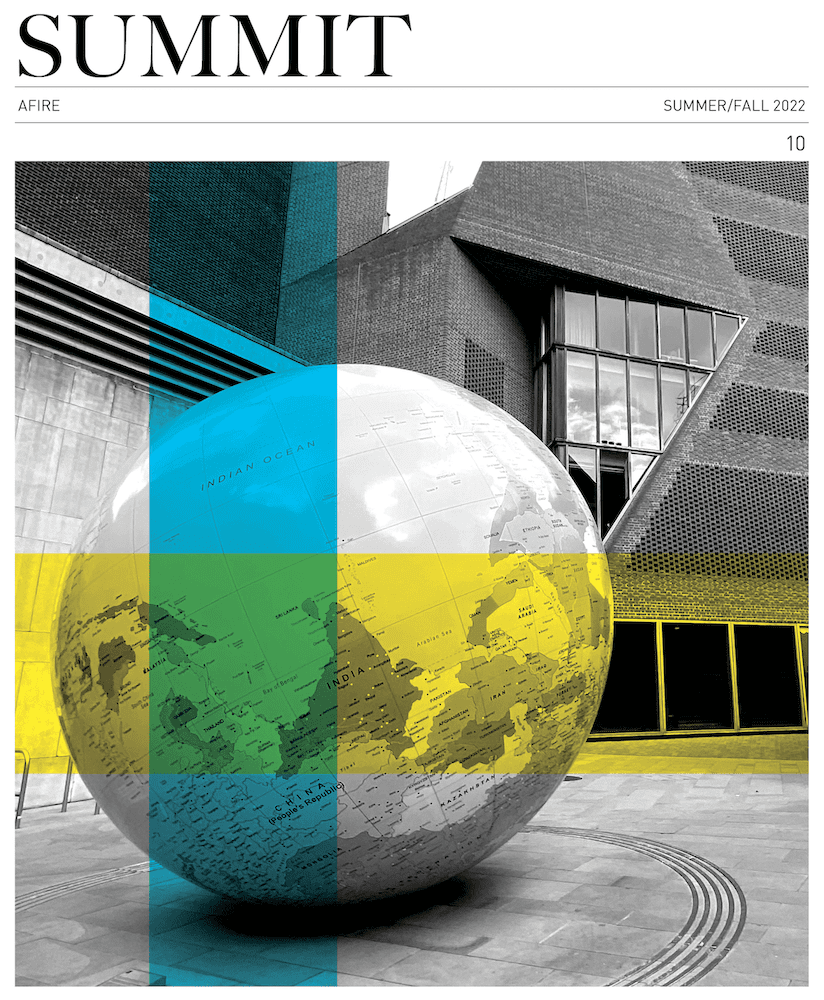 Through the rest of this year, investors forecast challenges for global capital, but thoughtful investors are forging ahead.
Gunnar Branson and Benjamin van Loon | AFIRE
While the market rarely sends clear investing signals, current market conditions are replete with clues, but as timing for corrections is difficult, a move to risk-off strategies could be useful.
Joseph L. Pagliari | University of Chicago
Mobile information technology has upended US land use regulation, and the ramifications of this technological upheaval are finally coming into view.
Robert Seldin | Madison Highland Live Work Lofts
As buildings become increasingly technologized, especially after the pandemic, cyber-attacks can put entire properties at risk and require a firmwide security approach.
Noëlle Brisson and Michael Savoie | CyberReady, LLC
The rapid rise in consumer prices has rekindled the old debate about whether commercial real estate provides a long-term hedge against inflation (hint: look at multifamily).
Gleb Nechayev, CRE | Berkshire Residential Investments
While the real estate industry has long understood the need for data, it still struggles with connecting information to decision making. New strides in data science could change that.
Brian Biggs and Ashton Sein | Grosvenor
The practice and expectations of investing across all industries is undergoing major upheaval and the key to stability will mean looking beyond profit for profit's sake.
Michael Cooper and Richard Florida | Dream Unlimited Corporation
Forecasts about the future of the office sector are often wildly conflicting, but the looming high tide of generational leadership transitions could change the script.
Sabrina Unger and Britteni Lupe | American Realty Advisors
The logistics sector was the winner of the pandemic recession—but is its rise built to last?
Hugues Braconnier and Dr. Megan Walters | Allianz Real Estate
From retail to office to abandoned factories and warehouses, owners of real estate are rethinking—and reinventing—the future of their investments.
John Thomas and Stacey Krumin | Squire Patton Boggs
Data centers have become an increasingly institutionalized property class over the past several years, but finding success in the sector depends on talent and expertise.
Max Shepherd, Jannah Babasa, and Isabel Ruiz Halter | Sheffield Haworth
As insurance costs of residential and commercial spiral out of control, a 1400-year-old tradition is poised to offer long-term, sustainable growth for real estate investments.
Ishmam Ahmed | Georgetown University & AFIRE
Dive into the report to understand if and how COVID impacted domestic migration patterns on a state, city, and zip code level.
Ethan Chernofsky | Placer.ai
How does the Consumer Price Index account for the cost of housing?
David Wessel and Sophia Campbell | The Brookings Institution
---
---