A recent DEI in real estate survey shows that the art of talking and listening helps boost recruitment, retention, and employee engagement. And it's free to implement.
As almost all commercial real estate organizations across the US adopt and implement DEI policies and strategies, it's important to ask: what is the actual goal of diversity, equity, and inclusion (DEI)?
Is it for raising capital from institutional investors? For ticking a box? For marking a moment in time? Because everyone else is doing it?
According to a recent survey co-sponsored by NAREIM, DEI is ultimately about how firms can recruit the best talent to their organizations, how they better retain that talent, and how they make employees feel included and part of the mission of the business. And that's not just something that is delivered only for women and people of color. That's something that everybody on the team wants.
It's one of the reasons why the adoption of DEI policies and strategies in North America has grown so exponentially since 2020, especially with the triune cultural catalysts of COVID, working from home, and the murder of George Floyd.
As firms look to their employees and their health, wellness, engagement, and productivity in a post-COVID world, DEI provides a helpful framework for shaping talent and HR strategies. It provides a playbook for organizations as they look to further develop and train their teams—and helps the best talent rise to the top. It's a valuable tool—and potentially ESG attribute—to build an organization able to withstand the challenges of the next years and decades.
But what exactly do we mean when we talk DEI strategy?
The great news is DEI strategies and policies are fairly straightforward, and inexpensive, to implement. In this article, we detail five policies that are not only keys to DEI success, but will help US-based real estate organizations as they look to recruit, retain, and engage all their talented workers.
AND OWNERSHOW DOES CRE PERFORM IN RELATION TO DEI?
The recent 2022 Global Real Estate DEI Survey, sponsored by NAREIM alongside ANREV, INREV, Ferguson Partners, NCREIF, PREA, REALPAC, and ULI, tracks gender and ethnicity metrics across job functions and seniority across the industry, globally.
The survey represented around 357,000 full-time employees (FTEs), $2.34 trillion AUM, and a cross section of the commercial real estate industry in terms of size, region, and business classification. It also brought together participation from 192 unique organizations which provided 210 submissions detailing their DEI practices in North America (81.4% of respondents), Europe (12.4%), and Asia- Pacific (6.2%). Data was collected between July 28 and October 7, 2022.
DEI is Really Important
As shown in Exhibit 1, around 95% of commercial real estate firms globally address DEI via either a formal program (i.e., a fully documented, holistic approach approved by senior management and adopted to ensure direction and accountability) or through less formal initiatives and policies.
That figure increases to 98% to 99% as you look to the largest organizations with the largest AUM. For North America, more than 70% of firms have a formal DEI committee responsible for developing, implementing and/or reviewing DEI strategies or initiatives, a figure that again increases among firms with more employees and greater AUM.
Representation of Women and People of Color is Improving
When you look at the DEI Survey between 2021 and 2022, there is a steady trend towards increased representation of women, across all regions globally, and for people of color in North America. In North America, representation of women increased most significantly at the board level, increasing from 21.4% in 2021 to 25.4% in 2022.
For people of color, which includes any employee who is Hispanic or Latino, Black or African American, Native Hawaiian or other Pacific Islander, Asian, Aboriginal/ Indigenous/Native American, or multiracial (two or more races), representation increased the most at the senior-level.
DEI is also About Access to Wealth-Generation and P&L-Facing Opportunities
SO HOW DO FIRMS IMPLEMENT DEI STRATEGY?
There is actually one simple idea that is the backbone of all corporate DEI policies, according to the DEI Survey: communication.
It sounds too basic, but it is the fundamental strategy organizations adopt when they look to improve DEI in terms of recruitment, retention, training, and inclusivity. Examples include:
Hiring more diverse candidates. That means communicating your corporate values.

As we look to improve the number of underrepresented groups within our candidate pools, it's important to reach out to new universities, to different parts of CRE, and to outside the industry.
There is some amazing work being undertaken by diversity-focused groups and CRE firms promoting commercial real estate and real estate investment management to high school and college students. But it's also about how the corporation talks about itself. As we look to the next generation of talent, jobs are not just about collecting a paycheck, they're also about values and having a mission. Communicating what your organization stands for as a business is critical to attracting talent, both young and old.

The key to retention is clear job specs and evaluations. That means better communication.

Year after year, the DEI Survey provides quantifiable evidence that the most impactful way to retain diverse talent is to conduct job performance reviews and evaluations based on well-defined, pre-determined criteria, and that job roles have clear responsibilities at the outset.
Employees and the best talent want to know precisely how they get ahead, and what the milestones are to achieve that. If we muddy the water by not being clear, by not outlining the path to progress, that talent will start looking for other roles where they can forge ahead. And evaluations come down to communication.

Being an inclusive leader or organization is about understanding the other point of view. That means listening more.

Inclusivity is the key to recruiting and retaining the best talent. And that cuts across gender and ethnicity. When employees feel heard and respected, they will stay. That doesn't mean all recommendations by your women's affinity group or your black or LGBTQ employee resource group (ERG) need to be adopted. But they do need to be heard and respected for potentially being different.
During the history of the DEI Survey, organizations have listed policies they deem successful in creating a more inclusive workplace and culture. More often than not, those policies come down to communication and listening. For example, providing prayer and meditation spaces; providing more PTO to ensure a work-life balance; promoting events to celebrate/inform about specific groups; volunteering; and allowing employees to participate in internal and external affinity groups or ERGs. It's about communication and the art of listening and hearing someone's else point of view. Even if you cannot provide a solution immediately. The act of listening and hearing someone goes a long way.
ADVICE FROM THE FRONT LINES
At the end of March 2023, NAREIM hosted its second Black Real Estate Roundtable meeting in Atlanta where almost 60 black professionals gathered to share their advice on mentoring, sponsorship, career pivots, and lessons learned over their years in real estate investment management.
The key takeaway from that cross-industry affinity group was to build relationships before you need them. To communicate more, and listen more.
"Don't take your relationships for granted and understand the power of relationships," said one speaker. "Build relationships before you need them. It's a simple philosophy."
With black professionals representing less than 7% of the commercial real estate industry, according to the DEI Survey 2022, there are career development hurdles facing each individual, including tokenism, a sense of isolation, imposter syndrome, less access to wealth-generating roles in CRE – and a lack of psychological safety.
But veterans offered some excellent advice to those making talent decisions in CRE:
Be intentional in relationship building. Go to lunch, follow-up, talk with people internally and externally to the organization and expand the pool of people to talk to. "Fish in different locations," said one speaker.
Keep networking and building relationships so that you can fi nd someone to be your advocate, your sponsor. And remember that sponsors don't have to look like you. And it can be powerful when they don't.
Do more than just your job. Show the curious mind to managers and your organization. Communicate and talk about what you want to achieve.
Invite analysts to sit in on every call. "I want them to hear what we are talking about, to absorb," said one member.
Your level of self-awareness has a direct impact on how others think about you. Understand the other point of view and hear what they have to say as well.
As we look to DEI, as we look to better engaging all our employees, our talent and creating a foundation for successful, thriving businesses for generations to come – communication is key. And everybody benefits.
Note: The 2023 Global Real Estate DEI Survey will begin data collection in July 2023. Contact Sonya Nicks at Ferguson Partners to participate: snicks@fergusonpartners.com
EXLORE THE FULL ISSUE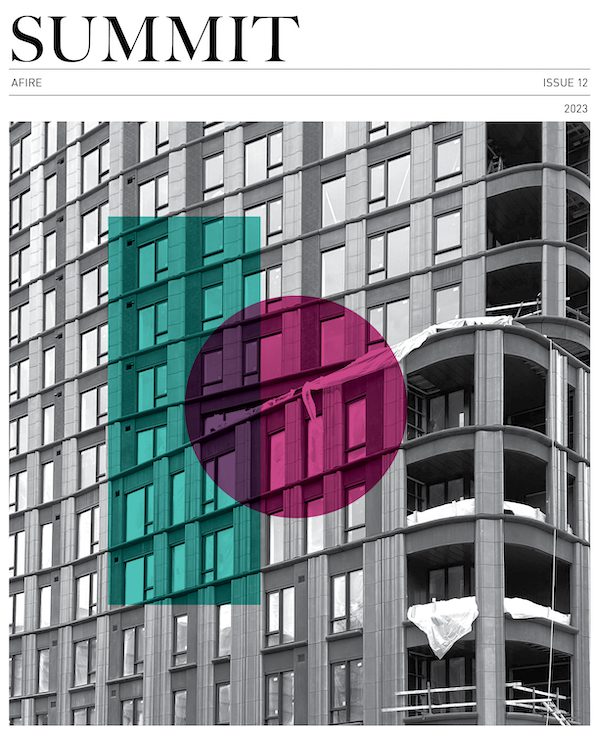 ALSO IN THIS ISSUE
Gunnar Branson and Benjamin van Loon | AFIRE
Matt Pomeroy, MAI and Jackie Bowie | Chatham Financial
Jim Costello | MSCI Real Assets
Joshua Harris, PhD | Lakemont Group & Fordham University
Stewart Rubin and Dakota Firenze | New York Life Real Estate Investors
Dags Chen, CFA | Barings Real Estate
Martha Peyton, PhD | Aegon Asset Management
Ron Bekkerman | Cherre + Donal Warde | Tenney 110 + Maxime C. Cohen | McGill University
Brian Klinksiek | LaSalle Investment Management
AFIRE ESG Committee
Mark Zettl | JLL
Zoe Huges | NAREIM
Andrew Weiner and Joshua M. R. Becker | Pillsbury
Joseph Pagliari, PhD, CFA, CPA | University of Chicago
---
---