The practice and expectations of investing across all industries is undergoing major upheaval and the key to stability will mean looking beyond profit for profit's sake.
It has become a cliché to say that an industry is being disrupted. But investing of all sorts and across all industries is in the throes of a major disruption. While most think of disruption as an effect of technological change, this one is a product of environmental and social concerns. In the face of imminent threats from climate change, income inequality, and increasingly unaffordable housing, real estate investors and developers are being forced to think beyond mere profit to the roles their organizations can play in addressing these challenges. The term associated with this sea-change is "impact investing."
ESG VS. IMPACT INVESTING
In 2015, the United Nations introduced its sustainable development goals (SDGs), covering everything from poverty, education, and gender equality to clean water and energy, and challenged the world to meet them by 2030.1 UN SDG 11 was focused specifically on making "cities and human settlements inclusive, safe, resilient, and sustainable." This provided a major impetus for ESG investing2—not quite the same thing as impact investing, which is defined as "the intention to generate positive measurable social and environmental impact alongside an attractive financial return."3
While ESG investments tend to be defensive by nature4—ESG funds, for example, avoid investing in companies that produce high amounts of carbon emissions—impact investing is proactive, investing in companies and technologies that work to reduce carbon emissions. ESG investments uphold minimum standards; impact investments exceed them. This intentional creation of positive benefits is the core of what differentiates impact investing from ESG.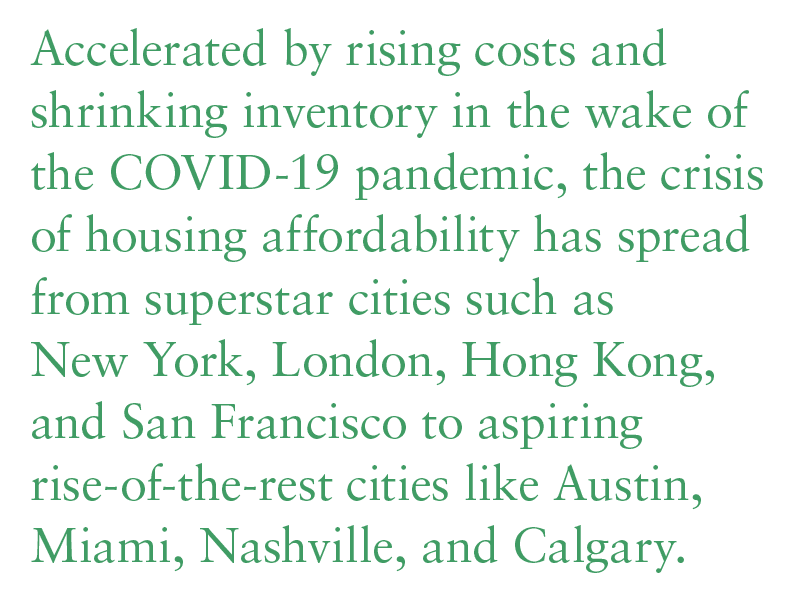 ESG and impact investments together amount to US$46 trillion, or 40% of all global assets under management, according to Deloitte Touche; a figure that is projected to grow to 58% by 2025.5 Some of this growth will be driven by new regulations, such as those in the European Union. But much of it is being propelled by the increase in institutional capital allocations towards investments that generate social as well as financial returns. And it is being accelerated by changing societal norms which value positive social and environmental outcomes. In this way, impact investing is bound up with a broader shift to more sustainable and inclusive models of capitalism: "doing well by doing good." Real estate development can and should make a difference in three areas in particular: (1) the mitigation of climate change and its effects, (2) increasing sustainability and affordability, and the (3) reduction of social inequities.
Environmental Sustainability: The real estate industry accounts for roughly 40% of global energy use and contributes around 30% of the world's greenhouse gas emissions, according to the United Nations, by its use of non-green building materials and climate control technologies, and by building low-density projects that exacerbate suburban sprawl, promote car dependency, and replace wetlands and greenspaces with hardscape, reducing climate resilience.6 By making the right choices, real estate investors can reduce those trends.
Economic Inequality: Income inequality has surged globally, reaching levels not seen since the 1920s. The middle class is shrinking as cities and metros cleave into islands of concentrated advantage surrounded by concentrated disadvantage, and the prospects for upward economic mobility have become radically constrained, according to research by Harvard's Raj Chetty.7 Strategic investments in under-served neighborhoods can make a huge difference.
Housing Affordability: Accelerated by rising costs and shrinking inventory in the wake of the COVID-19 pandemic, the crisis of housing affordability has spread from superstar cities such as New York, London, Hong Kong, and San Francisco to aspiring rise-of-the-rest cities like Austin, Miami, Nashville, and Calgary. In many of these places, the cost of home ownership has risen past the point of rationality, with median housing costing as much as 10, 12 and 15 times the prevailing median wage (three times median wage is considered affordable), according to Dermographia.8 A 2018 survey of 200 global cities found that 90% of them face an affordability crisis.9 Though luxury housing produces the greatest returns for investors in the short term, investments in affordable housing are needed to ensure a more widely shared and sustainable prosperity.
IMPACT INVESTING IN PRACTICE
As an example of the success of impact investing in practice, for over two decades, Dream, one of Canada's largest real estate companies, with CAD$16 billion under management, has organized its projects and investments around the goal to "Build Better Communities" while aggressively pursuing environmental sustainability. In 2020, with input from leading experts and consultants, Dream developed its proprietary Dream Impact Management System to understand, evaluate, and effectively communicate the impact being generated by its investments across two interrelated financial and social bottom lines. In that year, it launched the publicly traded Dream Impact Trust and the Dream Impact Fund, a private equity fund. Both vehicles are explicitly intentional and produce measurable impacts; all investments must meet at least one of the UN's 17 SDGs; and they are trackable and verifiable internally and by third-party audit.
Dream's Impact Framework seeks to align and measure its real estate investments to help address the pressing issues of climate change socioeconomic inclusion, and housing affordability. In this way, its Impact Framework reflects the United Nations' Sustainable Development Goals, with a particular focus on SDG 11 which calls for building more sustainable, resilient, and inclusive cities and communities. That framework this spans three key issue areas:
Environmental Sustainability and Resilience: Develop sustainable real estate that optimizes energy use, limits greenhouse gas emissions, and reduces water use and waste while also creating resiliency against natural disasters and major climatic events.
Attainable and Affordable Housing: Invest in integrated mixed-use communities that are transit-oriented, located close to employment opportunities, and support an overall lower relative cost of living with high quality of life.
Inclusive Communities: Intentionally design and program communities that are safe and inclusive for everyone with spaces that encourage mental and physical health, and wellness.
Dream set out to meet these goals by focusing on three key commitments: its Net-Zero Roadmap, which is aimed at achieving net-zero across its portfolio by 2035; its Social Procurement Strategy, which increases exposure to equity-seeking groups in its supply chain; and Impact Leases, which Integrate social and environmental commitments.
To illustrate its commitment to achieving its joint social and financial goals, with each CAD$100 million invested, the company projects a 14–16% financial return along with the following estimated environmental social returns:10
Environmental Sustainability: 860,000 KG of CO2 emissions eliminated annually, equivalent to 3.5 million vehicle kilometers removed from the road each year.
Attainable and Affordable Housing: 762 additional affordable housing units and CAD$2.5 million in saved rent annually by these households.
Inclusive Communities: The generation of an estimated 4,300 employment hours for under-represented groups and provision of an estimated 2,300 hours of inclusive community programming, such as tutoring and job training.
BEYOND PROFIT FOR PROFIT'S SAKE
The investment landscape is changing—and fast. For the real estate community and investors in it, it is no longer sufficient to merely generate financial returns. Governments and the public are increasingly calling for social benefits and returns as well. In the not-too-distant future, impact monitoring and measurement will stand alongside timeworn constructs like return on equity, internal rate of return, and yield as metrics to gauge success. Accounting frameworks that measure things such as greenhouse gas emissions, job creation for marginalized communities, and annual rental savings for households, will become increasingly relevant and important measures of investment performance. Real estate investors and developers who put such impact frameworks in place will be in the best position to win new projects, lease new space, access preferential financing and tax incentives, and ultimately procure more investment capital.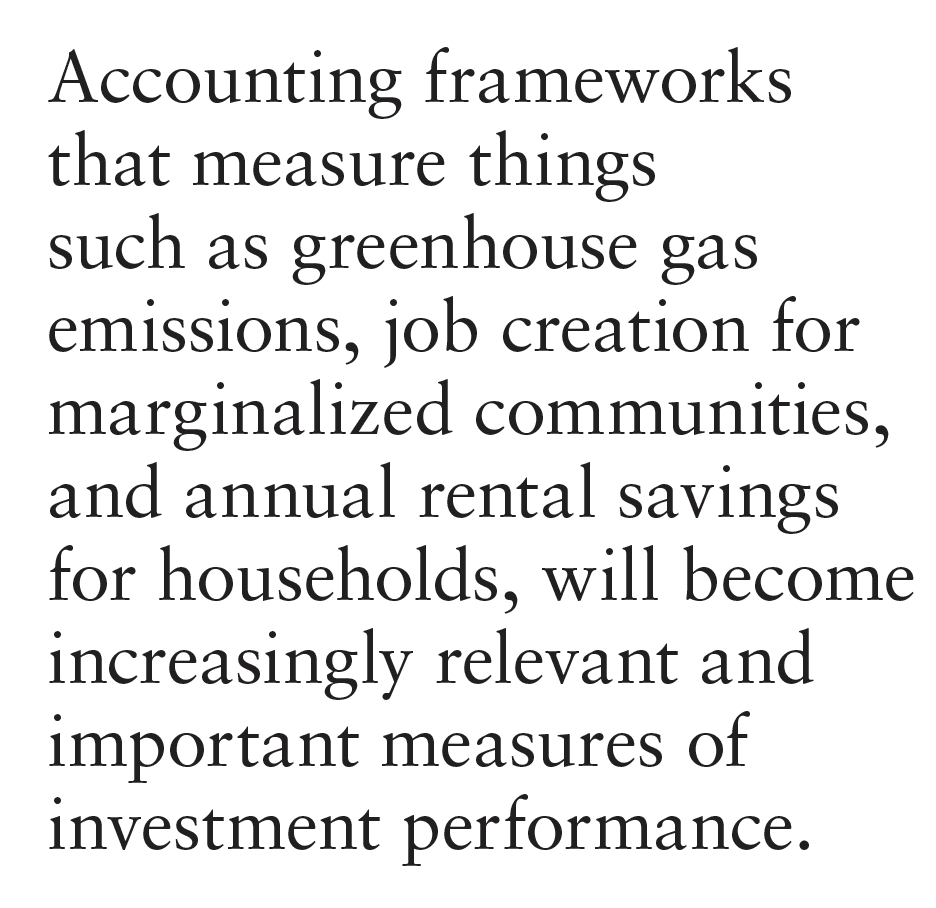 Government policies and regulations are accelerating this shift. Starting in 2030, the Canadian federal government will require 75% of the floor space in new and renewed commercial leases to be net-zero in their carbon impacts and climate resilient.11 Local jurisdictions are requiring developers to incorporate significant affordable housing options in their projects and demanding that they meet the UN's SDGs. The New York City Housing Authority is providing access to preferential funding to developers that preserve, revitalize, and create new affordable housing.12
Investors and companies are moving in this direction as well. The World Green Building Council has 132 global signatories committed to reducing carbon emissions to net zero in their real estate footprints.13 The National Council of Real Estate Investment Fiduciaries (NCREIF) is implementing measures to track key environmental and social goals.14 European investors have been proactive in this area for some time; North America is beginning to catch up.
The world has changed. Governments and the public at large increasingly expect investors to generate social and environmental benefits; demands that will only grow louder over time. As concerns over housing affordability and climate change mount and gain political traction, real estate investors and developers will be increasingly called upon to direct their capital to companies and projects that help meet these pressing social and environmental needs.
The concepts presented herein by the authors reflect the importance of ESG considerations in responsible impact-oriented investing and well represent the future of responsible real estate investing.
We can no longer deny the negative environmental impacts of traditional development methodologies. We must focus on responsible redevelopment of the built environment, deployment of energy efficient systems, demolition and repurposing of obsolete structures and collective collaboration to create healthy buildings and healthy communities.
Fortunately, the real estate industry is embracing this important mandate and will benefit society for generations to come.
Byron Carlock, Jr.
Real Estate Leader, PwC US
Editorial Board Member, Summit Journal
—
ABOUT THE AUTHORS
Michael Cooper is Founder, and Chief Responsible Officer of Dream Unlimited, with an extensive track record in the real estate industry dating back to 1986. Richard Florida is Vice Chair of Impact for Dream Unlimited and a professor at the University of Toronto.
—
NOTES
1. "Sustainable Development Goals," United Nations Department of Economic and Social Affairs, sdgs.un.org/goals.
2. "Environmental social and governance (ESG) investing," Organization for Economic Cooperation and Development, updated June 8, 2022, oecd.org/finance/esg-investing.htm.
3. "What You Need to Know About Impact Investing," Global Impact Investing Network, thegiin.org/impact-investing/need-to-know/#what-is-impact-investing.
4. "ESG vs. Impact Investing—Understanding their different goals and different roles," iCapital, updated February 15, 2022, icapitalnetwork.com/insights/blog/esg-vs-impact-investing-understanding-their-different-goals-and-different-roles/.
5. Tania Lynn Taylor and Sean Collins, "Ingraining sustainability in the next era of ESG investing," Deloitte, updated April 5, 2022, deloitte.com/uk/en/insights/industry/ financial-services/esg-investing-and-sustainability.html.
6. "Sustainable Real Estate Investment," United Nations Environment Programme, updated February 2016, unepfi.org/publications/investment-publications/property-publications/sustainable-real-estate-investment-2/.
7. "Home," Opportunity Insights, opportunityinsights.org/.
8. "Demographia International Housing Affordability," Urban Reform Institute, Frontier Center for Public Policy, updated 2022, demographia.com/dhi.pdf.
9. "Housing Affordability in a Global Perspective," Lincoln Institute of Land Policy, updated November 2018, lincolninst.edu/sites/default/files/pubfiles/kallergis_wp18ak1.pdf.
10. Dream also currently has over CAD$1 billion invested in pure-play impact investing vehicles, which includes signature projects such as: Toronto's West Don Lands, a LEED Gold, 30% affordable purpose-built multi-family rental apartment community in Toronto's downtown east end; Canary District Block 10, which includes the first Indigenous Hub in Canada, serving the needs of Toronto's First Nations community and the broader city; Brightwater, a 72-acre waterfront development in Mississauga's Port Credit area that will be transformed into a complete, vibrant, and diverse community; and Zibi, a 34-acre sustainable mixed-use waterfront community in Ottawa/Gatineau, which will be the first designated "One Planet Master-Planned Community" in the country.
11. "Greening Government Strategy: A Government of Canada Directive," Government of Canada, updated 2020, canada.ca/en/treasury-board-secretariat/services/innovation/greening-government/strategy.html.
12. Shimon Shkury, "Public/Private Partnerships are Crucial to Meet the Demand for Affordable Housing," Forbes, updated April 20, 2022, forbes.com/sites/shimonshkury/2022/04/20/publicprivate-partnerships-are-crucial-to-meet-the-demand-for-affordable-housing/?sh=5cd3b6b8594d.
13. "Four new companies join WorldGBC's Net Zero Carbon Buildings Commitment," World Green Building Council, updated February 11, 2021, worldgbc.org/news-media/four-companies-join-net-zero-carbon-buildings-commitment.
14. "ESG Key Performance Indicators—Feedback Requested," NCREIF PREA Reporting Standards, updated March 10, 2022, reportingstandards.info/2022/03/10/esg-key-performance-indicators-feedback-requested/.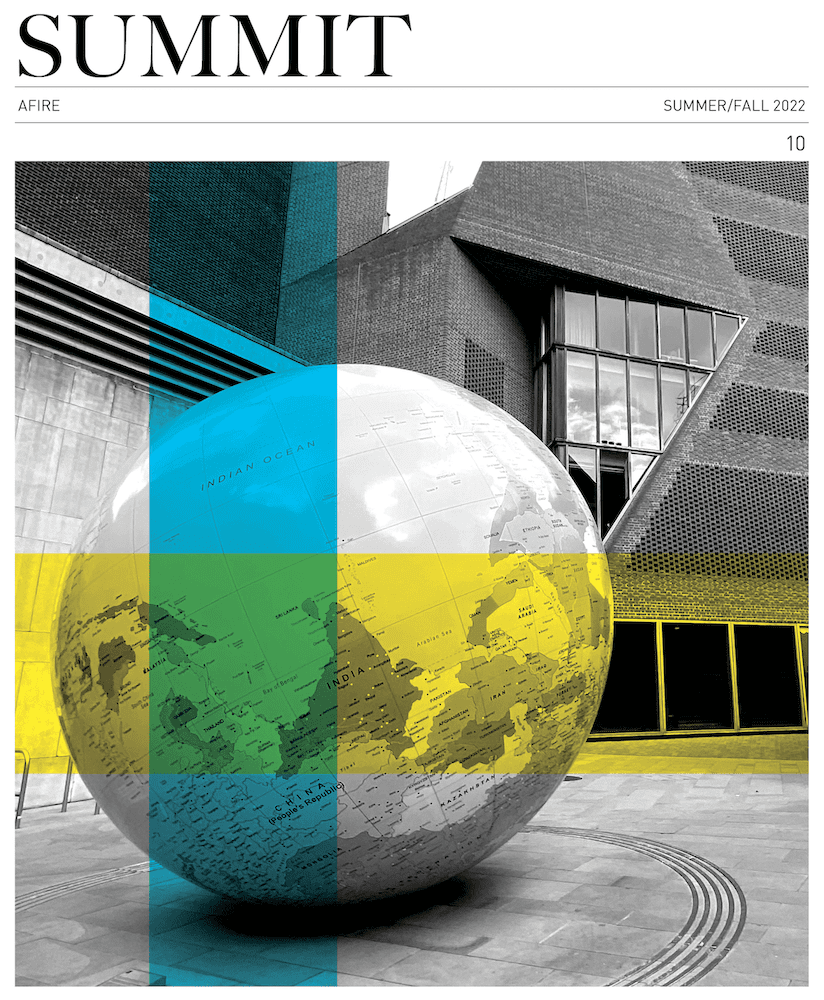 Through the rest of this year, investors forecast challenges for global capital, but thoughtful investors are forging ahead.
Gunnar Branson and Benjamin van Loon | AFIRE
While the market rarely sends clear investing signals, current market conditions are replete with clues, but as timing for corrections is difficult, a move to risk-off strategies could be useful.
Joseph L. Pagliari | University of Chicago
Mobile information technology has upended US land use regulation, and the ramifications of this technological upheaval are finally coming into view.
Robert Seldin | Madison Highland Live Work Lofts
As buildings become increasingly technologized, especially after the pandemic, cyber-attacks can put entire properties at risk and require a firmwide security approach.
Noëlle Brisson and Michael Savoie | CyberReady, LLC
The rapid rise in consumer prices has rekindled the old debate about whether commercial real estate provides a long-term hedge against inflation (hint: look at multifamily).
Gleb Nechayev, CRE | Berkshire Residential Investments
While the real estate industry has long understood the need for data, it still struggles with connecting information to decision making. New strides in data science could change that.
Brian Biggs and Ashton Sein | Grosvenor
The practice and expectations of investing across all industries is undergoing major upheaval and the key to stability will mean looking beyond profit for profit's sake.
Michael Cooper and Richard Florida | Dream Unlimited Corporation
Forecasts about the future of the office sector are often wildly conflicting, but the looming high tide of generational leadership transitions could change the script.
Sabrina Unger and Britteni Lupe | American Realty Advisors
The logistics sector was the winner of the pandemic recession—but is its rise built to last?
Hugues Braconnier and Dr. Megan Walters | Allianz Real Estate
From retail to office to abandoned factories and warehouses, owners of real estate are rethinking—and reinventing—the future of their investments.
John Thomas and Stacey Krumin | Squire Patton Boggs
Data centers have become an increasingly institutionalized property class over the past several years, but finding success in the sector depends on talent and expertise.
Max Shepherd, Jannah Babasa, and Isabel Ruiz Halter | Sheffield Haworth
As insurance costs of residential and commercial spiral out of control, a 1400-year-old tradition is poised to offer long-term, sustainable growth for real estate investments.
Ishmam Ahmed | Georgetown University & AFIRE
Dive into the report to understand if and how COVID impacted domestic migration patterns on a state, city, and zip code level.
Ethan Chernofsky | Placer.ai
How does the Consumer Price Index account for the cost of housing?
David Wessel and Sophia Campbell | The Brookings Institution
---
---

THIS ISSUE OF SUMMIT JOURNAL IS PROUDLY SUPPORTED BY
Aegon Asset Management is an active global investor that manages and advises on assets of $328 billion* for global pension plans, public funds, insurance companies, banks, wealth managers, family offices, and foundations. Aegon AM's Real Assets platform focuses on delivering yield-oriented and total return solutions spanning the risk/return spectrum.
With an over 35-year history and $25 billion* in AUM/AUA, the Real Assets business is built on a cycle-tested platform, deep and broad market access, and long-term relationships.
Our real assets debt and equity strategies seek to deliver strong relative value and returns through a research-intensive process. The process encompasses thoughtful top-down research and intelligent bottom-up analysis deployed by an experienced multidisciplined team of over 110 investment professionals.*
Each capability is underpinned by dedicated, in-house support and service teams including applied research, engineering and environmental, valuation, accounting, client service, legal and risk management.
*As of June 30, 2022. The assets under management/advisement described herein incorporates the entities within Aegon Asset Management brand as well as the following affiliates: Aegon Asset Management Holding B.V., Aegon Asset Management Spain, and joint-venture participations in Aegon Industrial Fund Management Co. LTD, La Banque Postale Asset Management SA, and Pelargos Capital BV.