The 2023 Global Real Estate DEI Survey from NAREIM and Ferguson Partners launched this week, providing real estate leaders the opportunity to help provide an up-to-date benchmark for gender, ethnicity and nationality across commercial real estate industry globally.
All AFIRE members are invited to get involved.
AFIRE has partnered with 11 commercial real estate associations around the world on this benchmark of Diversity, Equity and Inclusion (DEI) metrics. The associations include:
AFIRE, APREA, AREF, BPF, EPRA, NAREIM, NCREIF, OSCRE, PFAA, PREA, REALPAC and ULI
Ferguson Partners will conduct the survey on behalf of the organizations
The Global Real Estate DEI Survey will remain open for data submissions for eight weeks until September 22. The final results will be released January 17, 2024. 
To participate: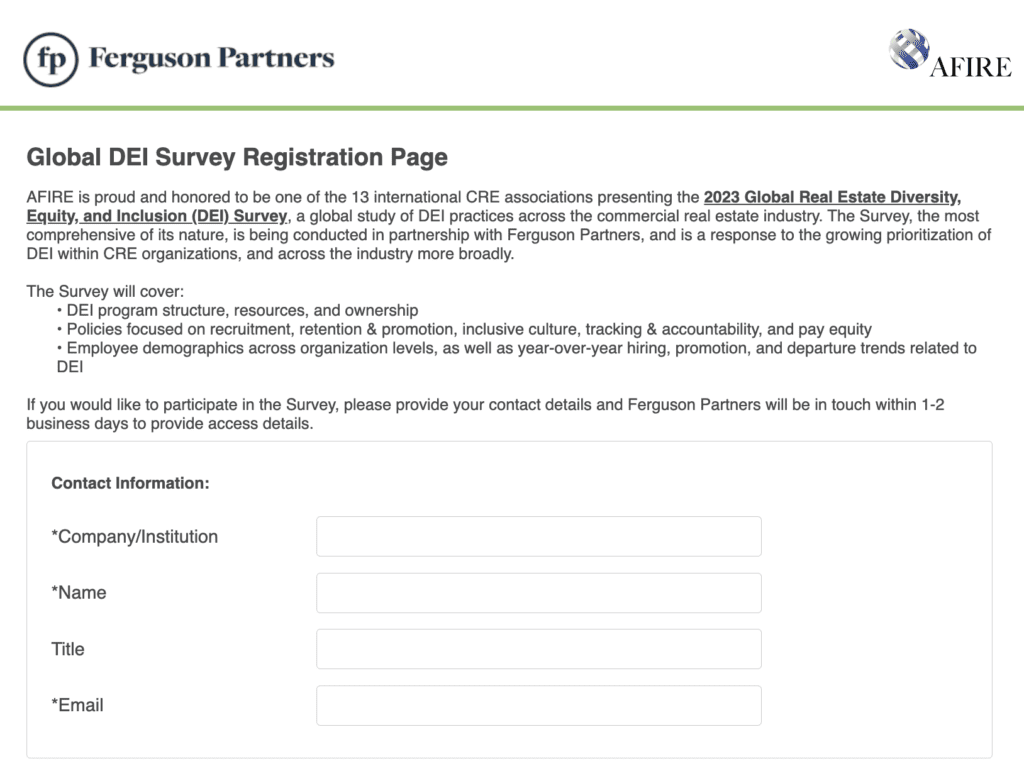 FAQs
In 2022, the Global Real Estate DEI Survey received responses from more 190 unique firms, representing 357,041 full-time employees, $2.34 trillion of assets under management and a cross section of the commercial real estate industry in terms of size, region and business classification.
What does the Global Real Estate DEI Survey track?
DEI program structure, resources and ownership
Policies focused on recruitment, retention, training and development, inclusivity, tracking and accountability and pay equity
Employee demographics by gender, across seniority and job function, as well as DEI hiring, promotion and departure trends year-over-year. In North America, the Survey will also track employee demographics by ethnicity, across seniority and job function.
Key findings included:
95% of respondents are addressing issues of DEI
85% of respondents addressing DEI set qualitative and/or quantitative or measurable goals

The main goals are to increase the representation of underrepresented groups at the senior level and improve employee engagement

Employee demographics across the three regions comprised:

In Asia-Pacific: Men: 50%; Women: 50%

In Europe: Men: 60.5%; Women: 39.5%

In North America: Men 57.5%; Women 42.5%; white 64.6%; people of color 35.4%
Note. All responses are confidential and secure. Participating firms are provided unique passwords to submit data. No association nor participating firm sees or has access to the raw data of other firms. Only aggregated, anonymized results are published.
EXPLORE THE LATEST ISSUE OF SUMMIT JOURNAL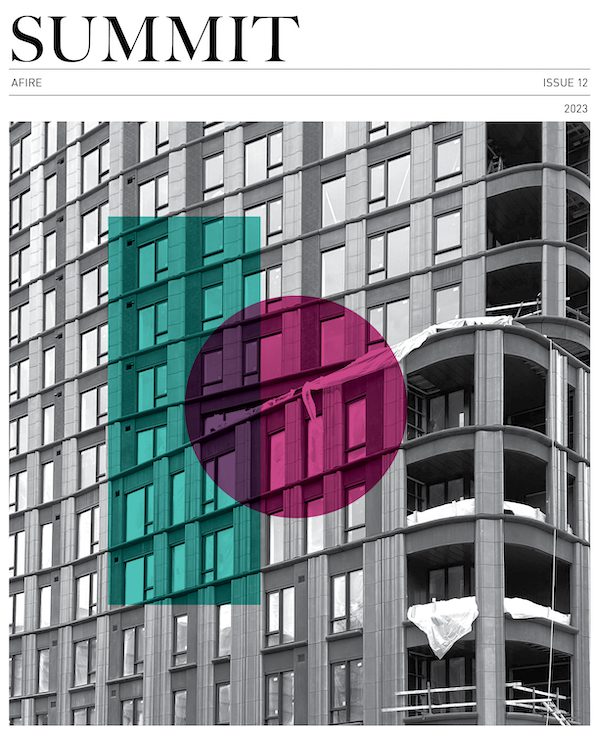 ALSO IN THIS ISSUE
Gunnar Branson and Benjamin van Loon | AFIRE
Matt Pomeroy, MAI and Jackie Bowie | Chatham Financial
Jim Costello | MSCI Real Assets
Joshua Harris, PhD | Lakemont Group & Fordham University
Stewart Rubin and Dakota Firenze | New York Life Real Estate Investors
Dags Chen, CFA | Barings Real Estate
Martha Peyton, PhD | Aegon Asset Management
Ron Bekkerman | Cherre + Donal Warde | Tenney 110 + Maxime C. Cohen | McGill University
Brian Klinksiek | LaSalle Investment Management
AFIRE ESG Committee
Mark Zettl | JLL
Zoe Huges | NAREIM
Andrew Weiner and Joshua M. R. Becker | Pillsbury
Joseph Pagliari, PhD, CFA, CPA | University of Chicago
---
---