The new 2022 AFIRE International Investor Survey Report reveals future institutional investment trends as the pandemic transformed preferences for how we live, work, and play.
If only we could live our lives and run our businesses backwards, life would be a lot easier. Instead, we exist in the present, blind to the future but looking for any glimpse or insight about what might be coming next. As long-term investors serious about how current trends shape future moods and events, we are forced to act without certainty.
If we could look back at the future, we would all be geniuses and our investment strategies bullet-proof. But as twentieth-century media theorist Marshall McLuhan once quipped, we march backwards into the future.
So how can we navigate a changing environment while blinded to what it might be?
The most successful among us—both within and beyond the global real estate investment community—can acknowledge uncertainty and still feel out the way ahead. They listen to others to find out what they've seen, and, through this, they avoid the pitfalls of assuming that something will work simply because that's how things worked in the past.
After another year of COVID, the pre-pandemic past has retreated further into the distance, and the future landscape is filled with change and uncertainty. The AFIRE Research Committee, ever focused on the issues at the heart of our business, once again collaborated diligently to find insight from AFIRE membership in this year's survey—including what AFIRE's leaders have seen and learned over the past two years, and what these lessons might say about the future.
REPORT SUMMARY
For more than thirty years, the AFIRE International Survey has gathered the opinions of AFIRE members, comprised of 175 institutional investors, pension funds, asset managers, and other leading global organizations from nearly two dozen countries with approximately US$3 trillion AUM (Exhibit 1).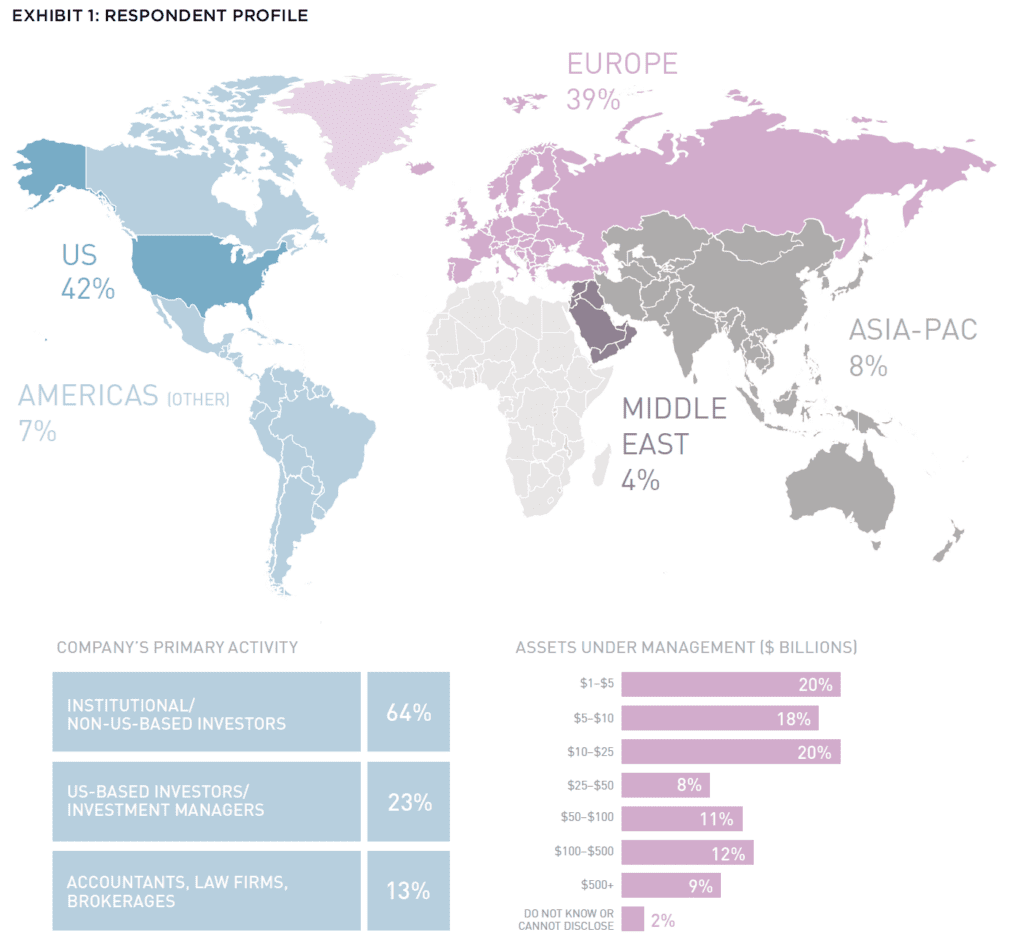 The results of this annual process produce this benchmark report; a useful tool for understanding the goals, challenges, and long-term thinking underscoring the international view of commercial real estate opportunities in the US.
Acknowledging that opinions can change rapidly, especially more than two years into a global pandemic, AFIRE has made all efforts to adapt this survey and meet the needs of our "new normal" in real estate—an age of heightened risk, diverse opportunity, and necessary innovation.
Investor outlook for the US remains positive amidst the dynamic context, as 75% of respondents expect their volume of investment activity and revenue growth to increase over the coming year (Exhibit 2). Roughly 80% of investors estimate allocating up to US$5 billion for US investment in 2022 (Exhibit 3).
This positive outlook is underscored by a majority acceptance (8 in 10) that many cultural fundamentals have been permanently changed by the prolonged pandemic. Similarly, both institutional and public interest in environmental, social, and governance (ESG) leadership and implementation has grown in kind—a notable trend that overlaps with investor forecasts related increased risks related to climate change, economic conditions, and other factors.
PRIMARY, SECONDARY, AND TERTIARY CITIES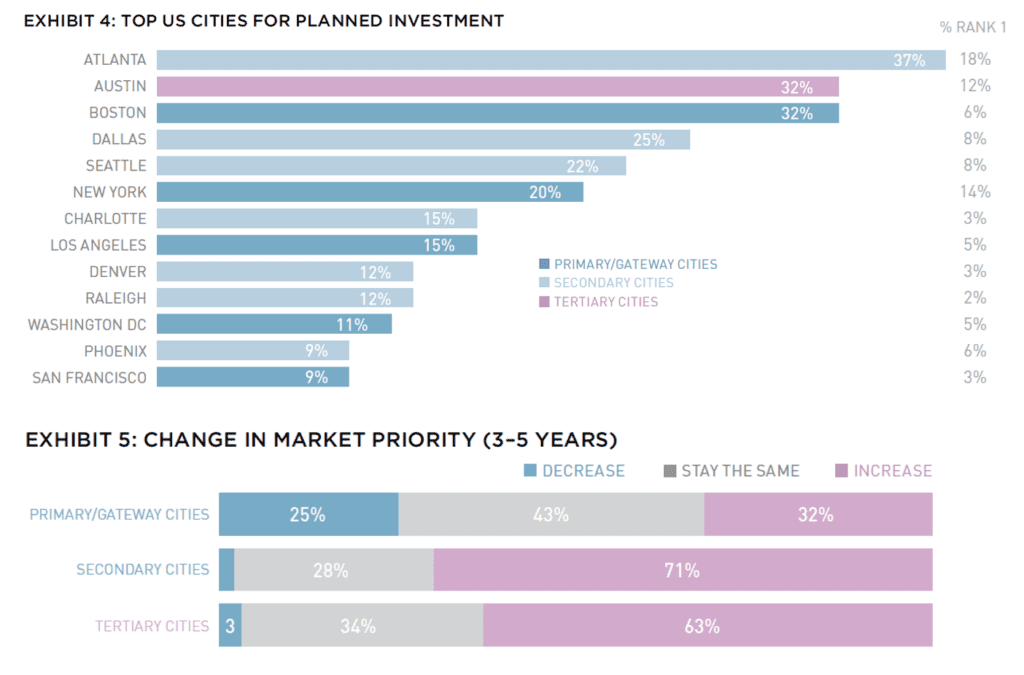 Accounting for shifts in both fundamentals and risks, Atlanta, Austin, and Boston are the top three cities for investment in 2022, as well as increased investment over the next five years. As these preferences indicate, investors are also moving beyond traditional gateway markets with a growing interest in both secondary and tertiary US markets (Exhibit 5).
Atlanta rises to the top of the US city ranking for 2022 (Exhibit 4), driven by a strong economy, diverse talent pool, and amenable climate. Atlanta also ranks higher in preference as the top city choice by non-US-based investors (28%), compared to US-based investors (18%).
Austin remains in favor in the second spot after topping the list in 2021, and Boston falls from second to third. Additionally, US-based investors are more likely to rank Austin in their top three planned real estate investment cities for 2022 (55%), compared to 32% for investors overall.
Austin and Atlanta also lead the way for planned exposure increase. The greatest decreases are forecast for Chicago and New York.
The current dominance of US secondary and tertiary cities in this survey is supported by a shifting preference beyond traditional gateway markets, as six in ten respondents plan to increase their investments in tertiary cities over the next few years (e.g., Charlotte, Raleigh, etc.), and seven in ten planning an increase in secondary cities (e.g., Dallas, Seattle, Denver, etc.).
EXPLORE THE FULL ISSUE (SPRING 2022)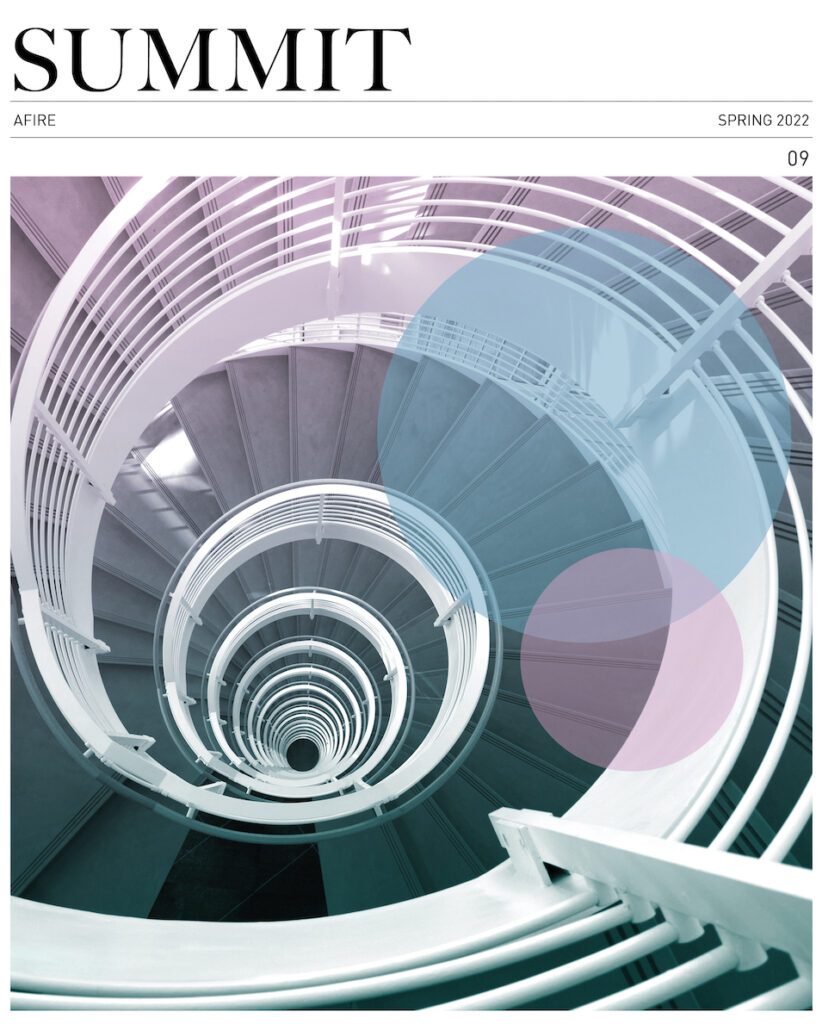 The new 2022 AFIRE International Investor Survey Report reveals future institutional investment trends as the pandemic transformed how we live, work, and play.
Gunnar Branson and Benjamin van Loon | AFIRE
What is it that makes London, Stockholm, Berlin, Amsterdam, and Paris the top European cities for office investment? And what could this mean for other global cities?
Dr. Megan Walters | Allianz Real Estate
Be careful about advice you hear from surveys— it will not always play out as expected.
Jim Costello | MSCI Real Estate
Outside of WWI and II, the US working age population has never declined. As of 2021, that statement is no longer true.
Stewart Rubin and Dakota Firenze | New York Life Real Estate Investors
Two years after offices closed due to the COVID pandemic, the debate over the longterm future of the office continues. What should office investment look like going forward?
Dags Chen, CFA; Ryan Ma, CFA; and Ryan LaRue | Barings Real Estate
US garden apartment investments are offering outsized return potential –but access remains a challenge.
Martha Peyton, PhD | Aegon Asset Management
As an increasingly popular asset class for institutional investors, single-family rentals are supported by strong future demand drivers to propel sector outperformance.
Daniel Manware | Nuveen Real Estate
The US is in the middle of one of the biggest housing crises that the country has ever seen. It needs a more resilient approach to housing.
Todd Williams | Grubb Properties
As a labor-intensive and service oriented asset class, hospitality is uniquely positioned to be a leader in advancing sustainability goals for investors.
Charlotte Kang, Geraldine Guichardo, Lori Mabardi, and Emily Chadwick | JLL
While continuation vehicles were once viewed as a signal of delay or failure, market sentiment is rapidly changing.
Max LaVictoire and Ashley Anderson | Hodes Weill & Associates
A note from AFIRE's Ethics Chair on the need for maximizing ethics in an age where globalization is under threat.
El Rosenheim | Profimex
---
---

These findings are tempered by a long-term view that gateway cities will maintain their preferred status over the next decade, even as investors largely agree that the pandemic has permanently altered cultural attitudes towards live-work preferences (Exhibit 6).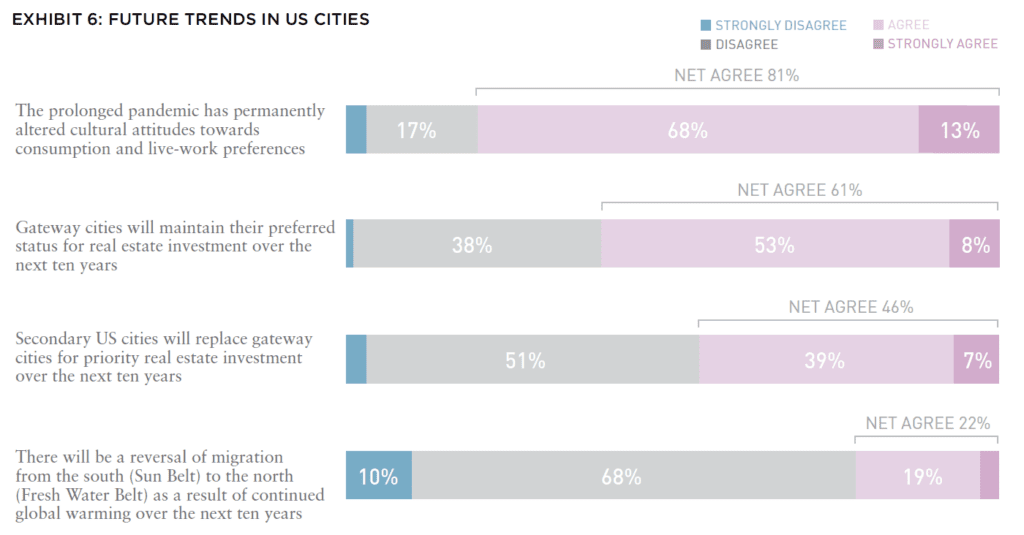 CROSS-BORDER CAPITAL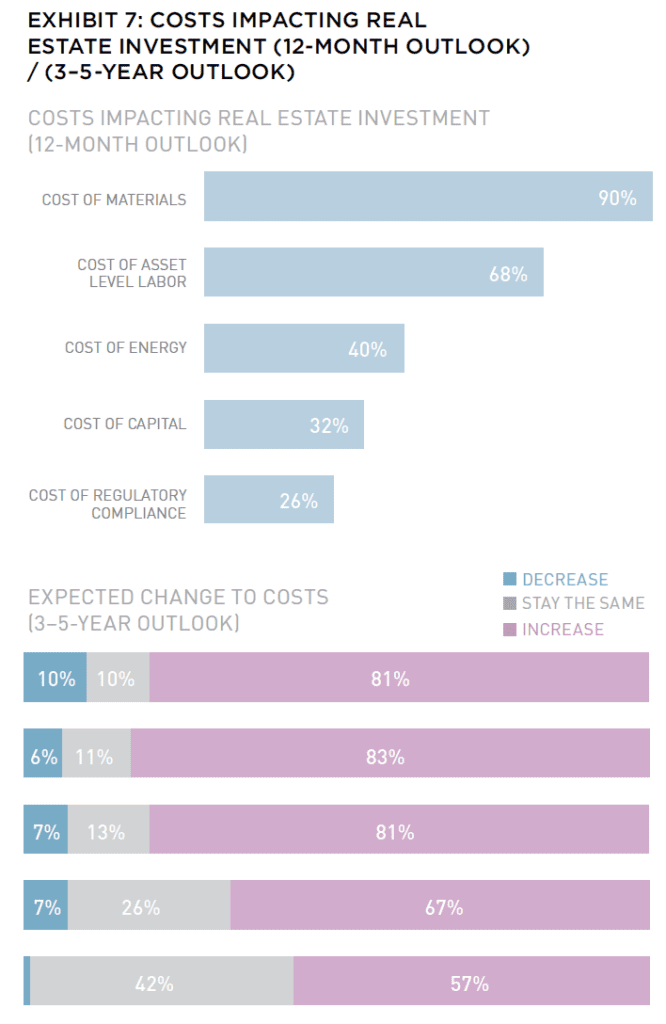 The net inflow of capital for US real estate is anticipated to increase over the next five to ten years, from 77% indicating current net buyer intentions, expanding to 82% into the next decade.
These current intentions have not changed much from 2021 to 2022, and three in ten investors were unable to place up to half of their 2021 allocations. However, most respondents are set to allocate up to US$5 billion each over the next year.
Nearly a third of investors were unable to place up to half of their allocations for real estate in 2021, with the costs of investments partly to blame. Respondents indicated that the cost of materials has had the biggest cost impact on investment over the past year, and eight in ten respondents foresee continued increases. Cost of labor and energy are expended to rise in equal measure over the next three to five years (Exhibit 7).
Citing other risks to allocations, investors also discussed broader macroeconomic factors, such as capital market volatility and inflation, as well as changes in tenant behaviors, geopolitical trends, and ongoing pandemic stressors.
In 2021, survey respondents noted that tax rates, US economic growth prospects, and fluctuating interest rates were top-of-mind for ongoing business concerns. And while these factors have long been ranked at the perennial concerns in this survey, inflation tops the list of trends to watch in 2022 (90% net concern).
Tax rates still rank on the list but fall to the fifth spot in this ranking as pandemic-accelerated changes in consumption and live-work preferences rises to the third spot. Such changes are posed to transform long-held orthodoxies about social and economic philosophies and their impact on real estate predictions.
Just as changes in consumer habits and cultural live-work preferences now rank among the top three business concerns for survey respondents, related changes in demographic trends are at the top of concerns specific to real estate (with 29% ranking these as the top concern).
Effective institutional understanding of issues related to affordability, changes in tenant demand, and changing cultural attitudes will be crucial for investment performance in the post-pandemic period, while also accounting for continued challenges posed by construction costs, asset pricing (and related factors), and regulatory nuances.
ENVIRONMENTAL, SOCIAL, AND GOVERNANCE TOPICS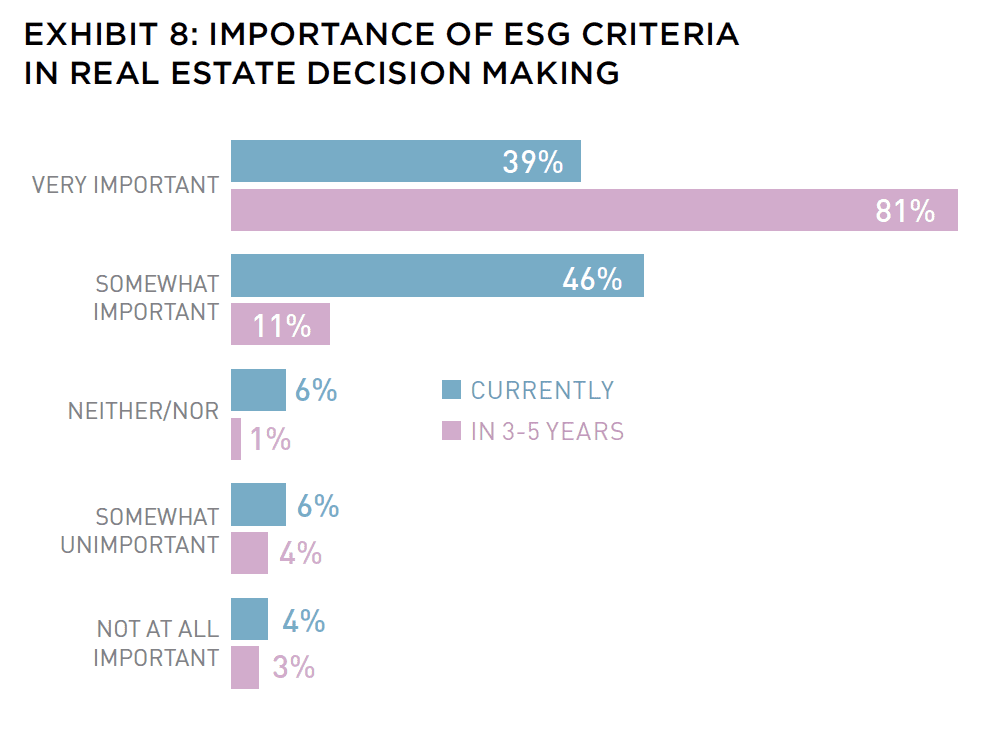 As investors account for heightened concerns related to the environment, affordability, and corporate behavior, their consideration of environmental, social, and governance (ESG) criteria in decision-making will become increasingly critical, with eight in ten viewing it as very important in the next few years. In 2021, for example, 69% of respondents indicated that ESG criteria would be very important over the next five years. This year, that number jumped to 81% (Exhibit 8).
Currently for 2022, energy and waste management, green building certification, and carbon footprint are the top three ESG criteria considered by investors for making their real estate decisions (Exhibit 9). Each of these environmental criteria have proven, built-in systems for measurement, thereby making them more reliable ESG performance measures. As more sophisticated systems evolve for assessing social and governance metrics, these priorities are likely to continue changing.
While non-US-based respondents are significantly more likely to consider environmental factors such as greenhouse gas emissions when making real estate decisions (23% compared to 14% of overall respondents), actionable climate change strategies and carbon footprint reduction measures are rated as the most important ESG priorities for US real estate investments in the near-future.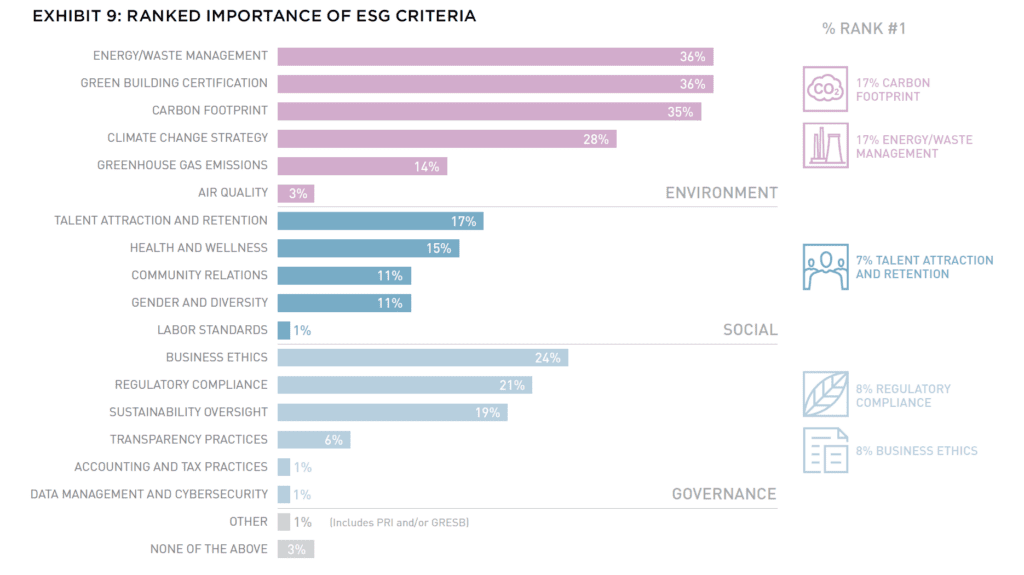 Few factors are expected to decrease in importance over the next five-year period, with strategies for diversity and talent attraction/development ranking secondary on the list, after environmental factors.
When asked which ESG planning, monitoring, and reporting activities were currently being implemented by investors (Exhibit 10), respondents ranked general corporate sustainability and Global ESG Benchmark for Real Assets (GRESB) reporting at the top of the list, followed by Principles for Responsible Investing (PRI) signatory and planning for net zero, respectively.
While tenant attraction, internal corporate compliance, and operational efficiencies rank as some of the top business benefits of ESG, brand reputation management remains the top business benefit of ESG leadership for respondents.
FUTURE TRENDS
As the importance of ESG leadership will continue to grow in the coming years, almost nine in ten respondents recognize the future financial benefit of taking action now on ESG. Notably, more than half of respondents (55%) agree that they would accept a lower-than-expected rate of return if it meant realizing other social or environmental benefits (Exhibit 11).
Even as measurement remains elusive for tracking the social aspects of ESG, respondents also emphasized the long-term importance of using this time to address gender, diversity, and talent and labor issues.
Climate risks are already impacting capital allocations in the near term. More than eight in ten investors cite these risks as affecting their 2022 capital allocation plans, and two in ten say these risks are having an extremely high impact on their allocation plans. The effects of these impacted allocations are expected to reverberate well into the future.
As climate risks alter long-term strategies, respondents also indicated which other factors would be critical to US investments over the next decade. Winners will be sorted from losers based on their understand of economics, demographics, and ESG priorities, and both favorable regulations and strong local expertise will be critical to asset performance and success (Exhibit 12).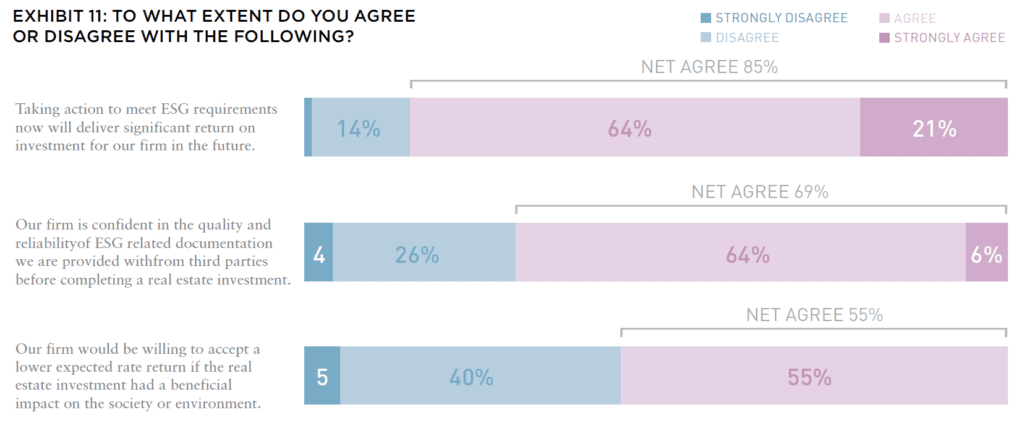 ---
ABOUT THE AUTHORS
Gunnar Branson is the CEO of AFIRE and the publisher of Summit Journal. Benjamin van Loon is Communications Director for AFIRE, and Editor-in-Chief of Summit Journal.